Home >
The History of This Website
Launched in 1995 (!), this website was the first of its kind on the web and for years it was the only source of information for pancreas cancer patients and their families. The Discussion Board component of the website was launched shortly thereafter in 1996.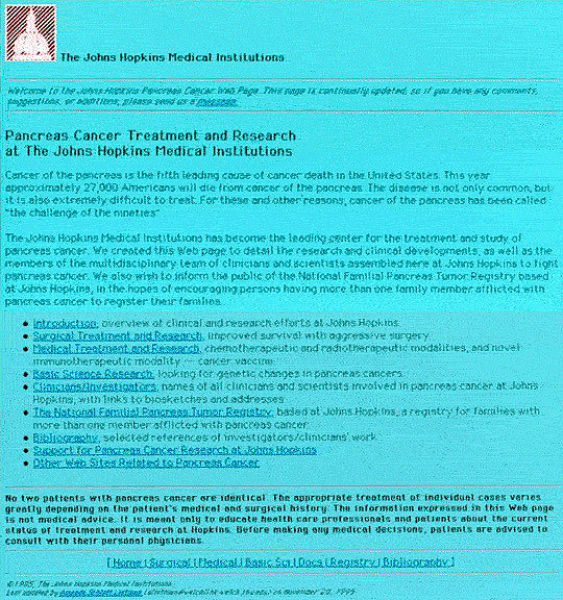 Humble Beginnings
The Johns Hopkins Pancreas Cancer website was born in the fall of 1995 when a patient's son came to Dr. Ralph Hruban, a pathologist at Johns Hopkins, and suggested we start a website. The patient and his son were extremely impressed with the research and clinical program at Hopkins and felt that we had to "get the word out" to other patients and their families.

The goal was to establish the leading pancreatic cancer website that would inform, and therefore empower, patients and their loved ones. The site had to be "user-friendly", but at the same time provide real substance. Dr. Hruban agreed to author the content of the site, but who could design it?
Amanda Lietman was coordinating the National Familial Pancreas Tumor Registry (NFPTR) at the time and agreed to design and create the site. She studied HTML and soon launched the original site with blue-green background.
The Impact
At the time, this website was the only source of information out there for patients and their families. The "chat room" (really an online discussion board), was added in the fall of 1996 and was an immediate success. Patients and caregivers from around the world quickly began to use it to trade information, sympathy, advice, and humor. The chat room is still active and to date there have been over 10 million hits to the chat room alone!

Not only did the chat room provide much-needed support to those facing a diagnosis of pancreatic cancer, but users used it to coordinate a grassroots effort to raise money and awareness for pancreas cancer. Although they had never met before, Paula Kim and Pam Acosta created and organized a wonderful fundraiser in Hollywood, California; this first fundraiser raised enough money and would become the nidus for the national pancreas cancer awareness group, PanCAN—an independent non-profit organization dedicated to education and advocacy for pancreas cancer.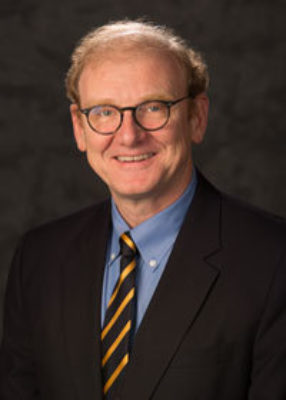 Today
The Pancreatic Cancer website at Johns Hopkins is still very active and continues to grow and mature. This website receives over 40,000 hits per month!
It is constantly being updated. Dr. Hruban has always authored the content and works hard to keep the content up-to-date. He does not get paid to do this.

There have been many benefits from this site. Not only have patients benefited from the wealth of information and support, but Johns Hopkins research has also benefited in two major ways. First, thanks to the rise in awareness from the site, a number of families have participated in research studies, such as the National Familial Pancreas Tumor Registry (NFPTR). Thousands of families have joined this research protocol, allowing scientists at Johns Hopkins to study why pancreatic cancer runs in some families.

We are always looking for ways to improve this website and welcome your comments and suggestions; please email Dr. Hruban.