The Cytokine Laboratory was established at Johns Hopkins University, Department of Pathology, in 2001. Since then this laboratory has evaluated patient samples from a variety of clinical departments including Rheumatology, Cardiology, Neurology, Oncology, Ophthalmology, Transplantation Surgery, Pediatrics and Infectious Diseases. In addition, this laboratory has provided cytokine testing for many colleagues outside JHU.

The Cytokine Laboratory offers state-of-the art testing for a broad range of cytokines including, such cytokines as, IL-6, TNF-α IFN-γ, as a well as cytokine receptors, growth factors, chemokines, adhesion molecules, etc.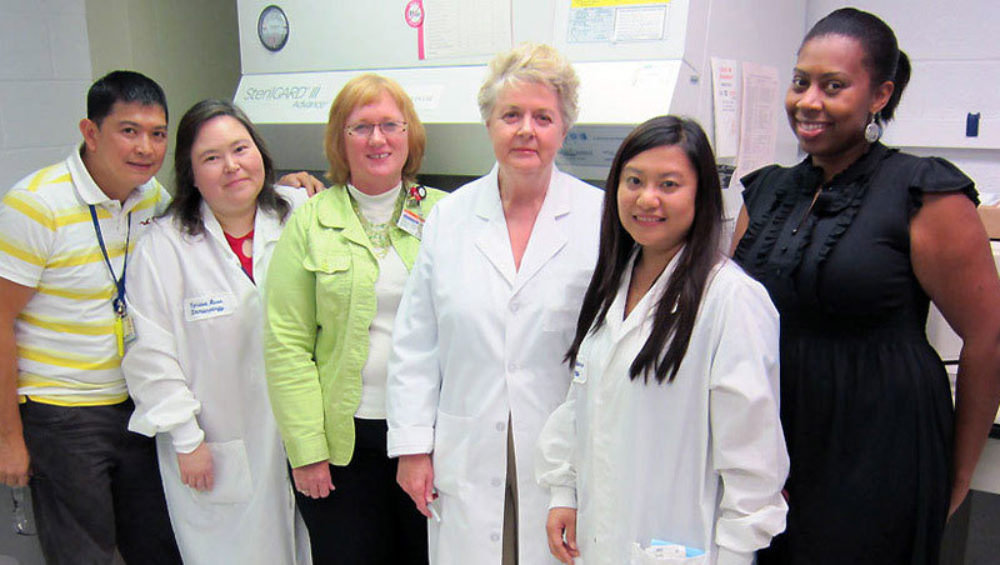 

Services

The Cytokine Laboratory at the Johns Hopkins University specializes in measuring cytokines using either the traditional enzyme-linked immunosorbent assay (EIA) or a multiplex assay.


Sample Preparation and Storage

All samples must be delivered immediately to the Cytokine Laboratory during the hours of: 8:00 AM - 4:00 PM, Monday-Friday

For directions on processing serum, plasma and other samples, request our Cytokine Laboratory procedure.

All samples are saved in -80 until analyzed. All freezers used for specimen storage are connected to alarms that are continuously monitored. Samples are maintained for the entire period of the study at which time they are returned to the investigator.

All samples analyzed are to be identified in our laboratory manifest, which can be emailed to you upon request, or you may receive a copy when you come to the Cytokine Laboratory.


Quality Control

A rigorous quality control program has been established to maintain consistent and accurate test results. Reference ranges for each cytokine are provided.


Multiplex Analysis

The Cytokine Laboratory recently acquired a multiplex instrument, the Luminex® xMAP® Technology system. The MAGPIX System performs the Bio-Rad Bio-Plex Pro TM cytokine assays. Currently, more than 100 cytokine/chemokine assays are available from Bio-Rad.

Multiplex analysis allows us to better detect multiple cytokines while streamlining our efficiency and cost. The multiplex assay may be used alone or it may be used in combination to enhance the EIA cytokine assay data. Using this approach our laboratory goal of providing up-to-date, cutting-edge analysis for patient care continues.


Consultation

The laboratory director provides consultation for cytokine analysis. All requests need to be scheduled prior to sending samples. Contact Ellen Barnes (410-955-4382) for appointment scheduling.

For consultation:

Barbara Detrick, Ph.D.
Professor of Pathology and Medicine
Cytokine Laboratory
bdetrick@jhmi.edu
Diversity Summer Intern Students
The Cytokine Laboratory has supported diversity summer internship students.
The Diversity Summer Internship Program (DSIP) at the Johns Hopkins Bloomberg School of Public Health is a 10-week summer program that provides undergraduates with a graduate-level, independent research project in the biomedical or public health field. Dr. Detrick has participated in this program since 2008, as a mentor and a member of the selection board. Her students are highlighted below:


Intern Students

Veronica Guirguis (2017) - a biology student in the Natural and Physical Sciences Department at Caldwell University, was awarded the 2017 Bloomberg SPH diversity internship. Veronica mentored with Dr. Barbara Detrick and Dr. Chris Heaney and investigated an inflammatory marker, IL-6, in patients infected with Hepatitis E Virus. While at CU, Veronica received the 2017 Independent College Fund of NJ grant from Novartis. She is excited about continuing her studies and plans to pursue her Immunology interests as part of a combined M.D./Ph.D. program here at Johns Hopkins University.

Pamela Marte (2016) - a rising senior at Caldwell University, was awarded the 2016 Bloomberg SPH diversity internship to study under Drs. Detrick and Heaney. Pamela's project focused on evaluating cytokines in a rare ocular degenerative disease, Autoimmune Retinopathy (AIR). At the completion of her internship, Pam entered her summer internship poster in the 49th Annual Metropolitan Association of College and University Biologists Conference held on Oct. 29, 2016 at State University of New York at Old Westbury, N.Y and was awarded second prize. Last year Pamela had an opportunity to continue her interest in the visual sciences. She joined Caldwell's 2017 Global Brigades medical mission trip group to Nicaragua and worked with the vision-impaired patients. In June 2018 Pamela plans to sit for the Optometry Admissions Exam and thereafter hopes to pursue her passion in ocular research.

Felix German Contreras-Castro (2015) - a junior at Amherst College, was the recipient of the 2015 summer internship award. He was a Black History Major at Amherst. Felix is a very outgoing student who had the opportunity to work with Dr. Detrick and the Immunology staff on a project evaluating the anti-phospholipase A2 Receptor (PLA2R) enzyme immunoassay in individuals with idiopathic membranous nephropathy (IMN). This assay is currently under consideration for addition to the Immunology Laboratory repertoire. The presence of autoantibodies to PLA2R is a critical tool for the identification of IMN and is an important marker to monitor therapy. Felix presented his poster in November at the 2015 Annual Biomedical Research Conference for Minority Students. He is presently a senior at Amherst College and plans to pursue a career in the biomedical area and has applied for a research position at the NIH.

Nataki Duncan (2014) - a junior at Rutgers University, New Jersey, was awarded the 2014 summer internship. She selected a major in Biology and minor in French. She worked with Dr. Detrick and the staff on laboratory markers of EBV infection. Her investigation focused on comparing two highly complex serologic technologies currently available to detect antibodies directed against various antigens in EBV infection. She continues to pursue her goal of merging her two interests of clinical laboratory with public health. Nataki received her bachelor's degree in Public Health from Rutgers University -New Brunswick in 2015. She plans to further develop her research and has applied for a research position to the IRTA at the NIH.

Brandon Newton (2013) - Studying for his undergraduate degree at Jackson State University, Brandon was the recipient of the 2013 summer internship. Brandon worked with Dr. Detrick and the Immunology staff from May 5-July 31, 2013 on his project studying laboratory markers of celiac disease. On the final day of his internship he presented his project titled 'Comparative Analysis of Methods used to Detect Autoantibodies in Celiac Disease'. Brandon is currently following his key goal to become a neurosurgeon and doing well in medical school.

Chantal Harris (2012) - As a junior studying at the University of Florida, Chantal Harris was awarded the 2012 summer internship for diversity students. During her time with the Immunology Laboratory she worked diligently with Dr. Detrick and the Immunology staff. Her project evaluated laboratory techniques to monitor autoantibodies and inflammation in Autoimmune Diseases. It was through this project that Chantal was awarded the McNair Scholarship during her senior year at the University of Florida. In 2012, Chantal was awarded a grant from the American Diabetes Association to work on Type 1 Diabetes at the University of Florida. During the summer of 2013, Chantal was accepted into the NIH funded International MHIRT program with the University of Alabama at Birmingham. This program allowed her to travel to Swaziland South Africa to participate in studies evaluating HIV positive infants receiving antiretroviral treatment.

Yureli Lopez (2011) - Pomona College underclassman, Yureli Lopez, was Dr. Detrick's second diversity student to join the Immunology Laboratory in summer of 2011. Yureli's project looked at IL-6 and Vitamin D in the sera of patients with multiple sclerosis. This study involved collaboration with our neurology colleagues, Dr. Peter Calabresi and Dr. Shiv Saidha and set the stage for future studies. Yureli went on to complete her schooling and took some time to travel to Argentina to work with HIV infected pregnant women. She writes often to let us know how important her short stay in the Immunology lab was to her and how it encouraged her to continue her work in public health area. Yureli now works for Mission Neighborhood Centers, Inc in the San Francisco Bay Area. She is a Family Services Specialist who aspires to make a lasting impact in the social sector by empowering families to reach their goals and prepare their children for school success.

Oscar C. Nnoli, MHS (2008 - 2009), Bloomberg SPH (2010 - 2011) - Heralding from California State University, Oscar was the first diversity student assigned to Dr. Detrick in the Immunology Laboratory. Oscar began his internship in the summer of 2008 and his dedication and enthusiasm marked his rotation as the first of several students to follow. His project, which focused on looking at mechanisms involved in the therapeutic effects of IFN-β in multiple sclerosis, served him well even, after his internship ended. In November of that year Oscar went on to win a first place award for his poster at National Student Meetings. Oscar returned the following summer (2009) for a second internship and expanded his project to study IFN-β as a key immunosuppressive cytokine. In 2010 Oscar came back again to attend the JH Bloomberg SPH and continued to work with Dr. Detrick. The following May, Oscar earned a Masters of Public Health. He is currently a researcher in the laboratory of Dr. Sergei Nechaev at the University of North Dakota School of Medicine.