Diagnostic Cytopathology involves the interpretation of cells that spontaneously exfoliate or are removed from tissues by abrasion or fine needle aspiration, such as specimens from the cervix (Pap tests), breast, thyroid, lymph node, liver, etc. The Division of Cytopathology at The Johns Hopkins Hospital actively participates in all aspects of diagnostic cytopathology as well as cytopathology research and training programs.
For any clinician or patient questions: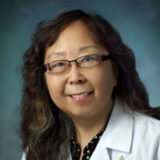 Faculty SpotLight
Qing Kay Li, M.D., Ph.D.
Dr. Qing Kay Li is a professor of pathology at the Johns Hopkins University School of Medicine. She has the American Board of Pathology certification in anatomic and clinical pathology, and subspecialty certification in cytopathology. Her areas of clinical expertise include surgical pathology and cytopathology.
Dr. Li received her medical degree from Tianjin Medical University, and comp... Read full bio
Browse All Faculty


GI Summer Picnic / Fellows' Graduation Party 2023

The annual GI summer picnic / fellows' graduation party was held on Saturday, May 13, 2023. In spite of rainy weather, faculty, graduating fellows, and their families enjoyed good food and conversation. We would like to congratulate our graduating fellows: Dr. Ryan Sappenfield, Dr. Weihua Song, and Dr. Lei Sun. Special thanks to Dr. Robert Anders for hosting and Kim Rawlings for organizing!


22nd Annual Current Topics in Gastrointestinal and Liver Pathology CME Course

This 22nd annual conference is intended as a practical overview for pathologists who encounter gastrointestinal and liver specimens in daily practice. Interpretation of biopsies of the upper GI tract mucosa and the liver will be addressed, as well as recent advances in pancreatic and biliary pathology. Case presentations will be featured to emphasize presented concepts. Participants should come away with a better understanding of interpretation of mucosal biopsies, liver biopsies, pancreatic/biliary disorders and the application of modern techniques to gastrointestinal disorders.


New Johns Hopkins Atlas of Appendiceal Pathology for iPad

Please check out our new iPad app on appendiceal pathology. Drs. Jacqueline Birkness-Gartman, Elizabeth Montgomery and Kiyoko Oshima have authored a new iPAD application as an educational tool designed to teach practicing pathologists and trainees the pathology of the appendix. This beautifully illustrated app is the eighth in a series of teaching apps produced by the pathology team at Hopkins.