The Laboratories in the Division of Molecular Pathology offer state-of-the-art clinical molecular testing for leukemia, lymphoma, and solid tumors. Founded in 1986, the laboratories have three decades of experience in the field of molecular diagnostics of cancer.
For any clinician or patient questions: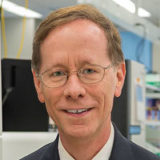 Faculty SpotLight
Christopher Gocke, M.D.
Dr. Christopher Gocke is an Associate Professor of Pathology and Oncology at the Johns Hopkins University School of Medicine. He is Director of the Division of Molecular Pathology, Deputy Director (Vice Chairman) of Personalized Medicine for the Department of Pathology, and co-director of Johns Hopkins Genomics.
He received his B.A. in Chemistry from Princeton University and his M.D. in ... Read full bio
Browse All Faculty


New Teaching Apple iPad App - Appendiceal Pathology

We are pleased to announce that our new teaching App for the iPAD is now available in the Apple App store!

The Johns Hopkins Atlas of Appendiceal Pathology
Volume 8 in the Series: The Johns Hopkins Atlases of Pathology

Drs. Jacqueline Birkness-Gartman, Elizabeth Montgomery and Kiyoko Oshima have authored a new iPAD application as an educational tool designed to teach practicing pathologists and trainees the pathology of the appendix. This beautifully illustrated app is the eighth in a series of teaching apps produced by the pathology team at Hopkins.



Congratulations, Emily Adams and Katie Beierl!

The Department of Pathology is proud to recognize this years' winners of the Women's History Month Achievers Award, Katie Beierl, Clinical Laboratory Manager and Emily Adams, Clinical Laboratory Specialist of the Molecular Diagnostics Lab! Send your warmest congratulations to Katie and Emily for their well-deserved award.

To learn more about Katie and Emily, read our Pathology Blog.


Congratulations, Dr. Marissa White!

The Department of Pathology is proud to recognize Dr. Marissa White who recently received the JHU 2022 Diversity Leadership Council Award, Diversity Leadership Award, for her outstanding commitment to diversity and inclusion. This award is given annually to exceptional individuals or groups who have fostered diversity in the institutes or divisions, whether through advocacy, programming or other endeavors across JHU. Congratulations, Dr. White!
To view the DLC award ceremony, click the button below.