Overview
The Molecular Genetic Pathology fellowship is an ACGME-accredited one-year program designed to train individuals for academic careers, including molecularly-oriented clinical/translational research, development of molecular diagnostic technologies, and disease-oriented basic research. More than 50 faculty members in the Departments of Pathology, Genetic Medicine, and others teach or mentor in this program.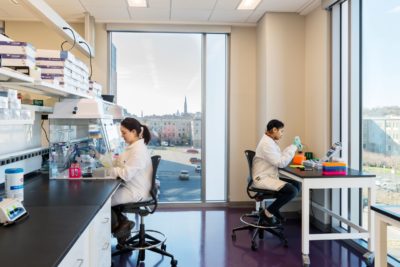 Training consists of didactic courses in molecular biology, introductory rotations through selected basic and applied laboratories, and an in-depth clinically-oriented experience under the direction of faculty mentors, all aimed at developing clinical competency. Fellows gain extensive experience in molecular diagnostics in the fields of oncology, medical genetics, microbiology, clinical chemistry, and others. Special focus is given to next-generation sequencing, clinical genomics and emerging technologies. Core training will take place at Johns Hopkins Genomics, which integrates clinical diagnostics laboratories and NIH-funded research and core facilities to provide a comprehensive learning environment. Fellows will also rotate through a variety of other laboratories that offer broad exposure to key disciplines in Molecular Pathology (see below).

A research-oriented second year may be available to appropriate candidates. Current research activities include molecular oncology, including diagnostic development and fundamental neoplastic mechanisms, population genomics, transplantation, immunopathology, including HIV-related research, neuropathology focusing on mechanisms of degenerative disorders, immunohematology, clinical chemistry, molecular microbiology, and comparative pathology.
Clinical Training Laboratories
Requirements
Applicants should possess MD/DO, or equivalent doctoral degree, and must have completed training in general pathology (Anatomic and/or Clinical Pathology) or medical genetics in an ACGME-accredited program. Exceptional PhD applicants with extensive clinical laboratory experience may also be considered.
Applying
To apply, please download our application form and send it to Penny Spencer via email at pspence3@jhmi.edu
For additional information please contact:
Rena R. Xian, M.D., Program Director
Johns Hopkins University School of Medicine
Department of Pathology
1812 Ashland Avenue, Suite 200
Baltimore, Maryland 21205
Phone: 410-955-8363
Fax: 410-955-0484
Email: rxian1@jhmi.edu