The Division of neuropathology at Johns Hopkins is committed to diagnosing and curing diseases affecting the brain. With the explosion in knowledge of basic neurobiology and the advances in understanding of the genetic, molecular and cellular bases of diseases, there has been no time of greater promise for discovering how to treat patients suffering from conditions affecting the nervous system.
For any clinician or patient questions: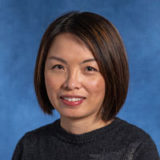 Faculty SpotLight
Cheng-Ying Ho, M.D., Ph.D.
Dr. Cheng-Ying Ho is an Associate Professor of Pathology at the Johns Hopkins University School of Medicine. Her areas of clinical expertise include neuromuscular pathology, pediatric neuropathology, and neuropathology of infectious diseases. Dr. Ho serves as the Deputy Director for the Neuropathology Fellowship Program.
Dr. Ho received her medical degree from National Taiwan University ... Read full bio
Browse All Faculty


Congratulations, Dr. Marissa White!

The Department of Pathology is proud to recognize Dr. Marissa White who recently received the JHU 2022 Diversity Leadership Council Award, Diversity Leadership Award, for her outstanding commitment to diversity and inclusion. This award is given annually to exceptional individuals or groups who have fostered diversity in the institutes or divisions, whether through advocacy, programming or other endeavors across JHU. Congratulations, Dr. White!
To view the DLC award ceremony, click the button below.


New Teaching Apple iPad App - Appendiceal Pathology

We are pleased to announce that our new teaching App for the iPAD is now available in the Apple App store!

The Johns Hopkins Atlas of Appendiceal Pathology
Volume 8 in the Series: The Johns Hopkins Atlases of Pathology

Drs. Jacqueline Birkness-Gartman, Elizabeth Montgomery and Kiyoko Oshima have authored a new iPAD application as an educational tool designed to teach practicing pathologists and trainees the pathology of the appendix. This beautifully illustrated app is the eighth in a series of teaching apps produced by the pathology team at Hopkins.



Congratulations, Dr. Angelo DeMarzo!

Dr. Angelo DeMarzo was the 2022 winner of the School of Medicine's Professors' Award for Excellence in Teaching in Biomedical Sciences. The award, presented at graduation, was established in 1981 by the Advisory Board of the Medical Faculty and honors a member of the faculty whose teaching is judged to have had a profound effect on students in the School of Medicine.