The Division of Transfusion Medicine is internationally known for expert diagnostic and consultation services. Comprehensive in its scope, the division includes a high volume clinical blood bank laboratory, an immunohematology reference laboratory, and a tissue bank. The Division of Transfusion Medicine is closely associated with the Hemapheresis and Transfusion Support (HATS) division, as well as the Johns Hopkins Center for Bloodless Medicine and Surgery.
For any clinician or patient questions: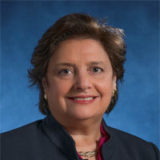 Faculty SpotLight
Maria Bettinotti, Ph.D.
Dr. Maria Bettinotti is an assistant professor of medicine at the Johns Hopkins University School of Medicine.
Dr. Bettinotti received her undergraduate degree from the University of Buenos Aires in Argentina. She earned her Ph.D. from Ludwig-Maximilians-University in Germany.
...
Read full bio
Browse All Faculty


Congratulations, Allen Valentine!

Allen Valentine, the Senior Administrator of Pathology, was presented with the distinguished honor of Ronald R. Peterson Achievement Award. This award is presented annually to a leader who exemplifies exceptional dedication and outstanding career contributions as well as unwavering integrity and enduring mentorship. Congratulations to Allen on a well-deserved award of accomplishment and recognition!


SBP Vivian W. Pinn Award

Dr. Marissa White just received the Society of Black Pathologists Vivian W. Pinn award for Excellence in Leadership in Pathology and Laboratory Medicine. Congratulations to Dr. White for this well-deserved recognition!


New Teaching Apple iPad App - Appendiceal Pathology

We are pleased to announce that our new teaching App for the iPAD is now available in the Apple App store!

The Johns Hopkins Atlas of Appendiceal Pathology
Volume 8 in the Series: The Johns Hopkins Atlases of Pathology

Drs. Jacqueline Birkness-Gartman, Elizabeth Montgomery and Kiyoko Oshima have authored a new iPAD application as an educational tool designed to teach practicing pathologists and trainees the pathology of the appendix. This beautifully illustrated app is the eighth in a series of teaching apps produced by the pathology team at Hopkins.