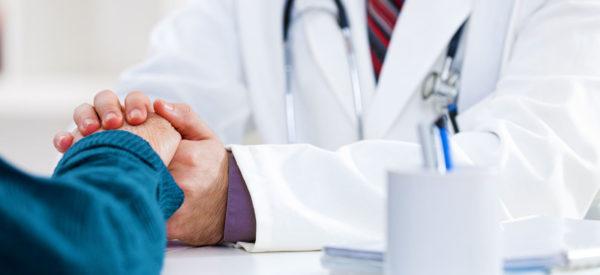 We pledge to take great care of you.
We pledge that you will be taken care of by experts in the field. The pancreatic cancer team at Johns Hopkins has been ranked #1 in the world by Expertscape, and Expertscape also recognizes several of our doctors as the world's leading experts in the field. Our doctors, nurses and other healthcare providers have dedicated their careers to fighting pancreatic cancer, and are highly experienced in taking care of patients with pancreatic diseases. They know their stuff!
We pledge to provide multidisciplinary, team-based, care. Many studies have demonstrated that multi-disciplinary care leads to the best outcomes for patients with pancreatic cancer. The multidisciplinary treatment of patients with pancreatic cancer started here at Hopkins. Our diverse team includes surgeons, oncologists, radiation oncologists, pain experts, gastroenterologists, pathologists and radiologists. As appropriate, your care will be guided by a multidisciplinary team. We embrace the team approach!
We pledge to use our experience to guide your care. Many studies have demonstrated that care at centers with extensive experience treating patients with pancreatic cancer ("high volume centers") leads to the best outcomes for patients with pancreatic cancer. Here at Johns Hopkins we have done more pancreas surgery than any other center. The Whipple (also called pancreaticoduodenectomy) is the operation used to remove cancers and other diseases involving the head of the pancreas. Surgeons at Johns Hopkins have performed over 5,000 Whipple operations over the past 30 years. Experience matters.
We pledge to provide the latest, cutting-edge, care. The diagnosis and treatment of pancreatic cancer is complex, and it is rapidly advancing. The team at Hopkins is dedicated to providing our patients with care based on the latest advances. From the most modern CAT scanners, to personalized treatment based on genetic testing, our patients receive the the most recent treatments.
Most of all, we pledge that compassionate and caring healthcare providers will care for you. We believe that compassion is just as important as expertise. This is especially true for patients and families facing the diagnosis of pancreatic cancer. We care about you, and we will listen to your concerns.
Simply put, we will take great care of you.
Next Steps
We encourage you to contact our referral coordinator at 410-933-PANC (410-933-7262) who will help you determine whom you should see first and how we can best help you.

If you are diagnosed with or are suspected of having pancreas cancer, it is important to determine whether the disease is confined to the pancreas and can be surgically removed, or if it has spread out of the pancreas to other organs and is best treated with chemotherapy.