As a patient, you play an important role in determining the best treatment for you. Some patients would like to have aggressive therapy, while others prefer less aggressive therapies with fewer side effects. Make sure your voice is heard!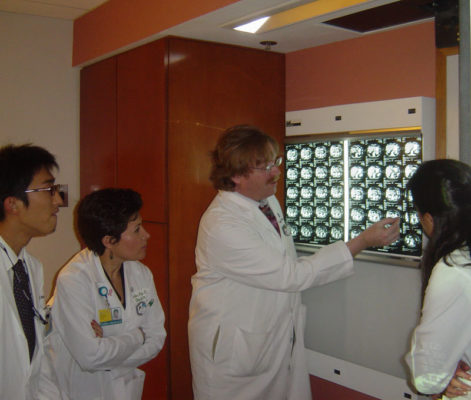 Our Pancreatic Cancer Clinic
The treatment of pancreatic cancer depends on stage. Pancreatic cancer is best treated by a multidisciplinary team that includes primary care physicians, gastroenterologists, surgeons, pathologists, medical oncologists, and radiation oncologists. This team, together with strong input from the patient, can best determine the combination of surgery, chemotherapy and radiation therapy that is optimal for a particular patient.
Surgical Treatment
Low stage pancreatic cancers (stage I and II) can be treated surgically. Surgery may be suggested as a potentially curative treatment or as a palliative measure to improve the patient's quality of life. Before reviewing the surgical procedures, it is important to emphasize that every patient has a unique case that should be discussed in detail with your healthcare providers.
Scientists at Johns Hopkins are making advances in understanding the early stages of this disease, and it is our hope that in the future more cases will be detected earlier, when they are still operable.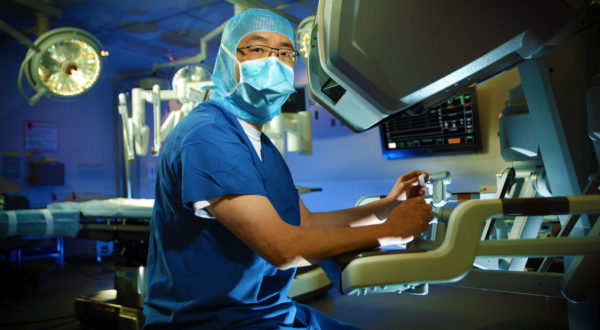 Robotic Surgery
Robotic surgery has largely replaced laparoscopic surgery. Robotic pancreas surgery allows candidate patients to minimize some of the standard risks and discomfort associated with a standard open surgery.
Pancreas surgery is complex, and a number of published studies have reported that surgery is safest at specialized centers with extensive experience. We therefore recommend that pancreas surgery is performed by a specialist who is familiar with standard tissue handling techniques for the pancreas, and at high volume centers (hospitals that routinely perform large numbers of pancreas surgeries every year).

Chemotherapy & Radiation Therapy
Chemotherapy and radiation therapy are sometimes given together to reduce the size of the tumor to patients with advanced pancreatic cancer who are not candidates for surgery. In addition, it is often given to patients with locally advanced but not metastatic pancreatic cancer. In this situation, radiation therapy can provide good local (in the area of the pancreas) control of the cancer, and it can alleviate a number of symptoms caused by the cancer such as pain.
Pain Management
Pain is a very common symptom in patients with pancreatic cancer, and pain can significantly reduce a patient's quality of life. Proper management of this pain is therefore important, and patients shouldn't hesitate to seek the advice of an expert in the treatment of pain.

Clinical Trials
One thing that is clear: we still have a long way to go in the treatment of pancreatic cancer.
We cannot be satisfied with the status quo. For this reason, here at Johns Hopkins we strongly encourage patients with pancreatic cancer to consider participating in a clinical trial. It is also important to know that you are absolutely not required to participate in a clinical trial. You will still get excellent care with standard, more proven, therapies.

Clinical trials allow researchers to test new drugs and new combinations of treatment. It is important to note that participating in a clinical trial does NOT mean the patient may be given a "placebo." In the vast majority of clinical trials, two different treatments are compared.

To learn more about clinical trials click here.
If you would like to learn more about these research studies, please contact Dr. Dan Laheru at:

The Sidney Kimmel Comprehensive Cancer Center at Johns Hopkins
The Bunting-Blaustein Cancer Research Building Room G89
1650 Orleans Street Baltimore, MD. 21231-1000
Phone: 410-955-8974
Fax: 410-955-0125
E-mail: [email protected]
Next: Quality of Life