Jake's Bikeathon For Pancreatic Cancer
Two years ago, I rode 700 miles to Halifax on bicycle with my father as part of our summer vacation. Ever since then, I have said that I wanted to do it again. I am riding to Halifax again this year, not only because I like riding, but because I want to raise money for pancreatic cancer in honor of my grandfather. I hope that this money will help future pancreatic cancer victims.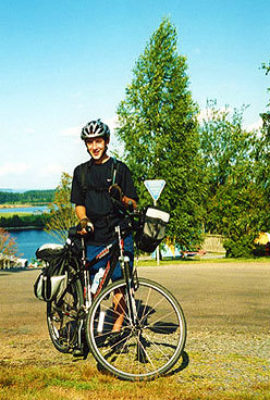 About Jake
I am a 14-year-old incoming sophomore at the Rae Kushner Yeshiva High School in New Jersey. I was born in Brooklyn, New York; lived in Houston, Texas, for seven years; and I now live in West Orange, New Jersey.
While my father is a native of West Orange, my mother was born in Halifax, Nova Scotia, Canada. Her mother is a third generation Nova Scotian. My grandfather found his way to the Canadian Maritimes when he went to medical school at Dalhousie University in Halifax. He grew up in the German Jewish community of Washington Heights, New York, but wanted to see other parts of the world after spending his early years in New York. After meeting my grandmother and getting married, they settled in Halifax and had three children, the oldest of which is my mom. My grandfather started his career as an obstetrician in Halifax and practiced there his entire life until his sudden retirement last year.
One year ago my grandfather was told that he had pancreatic cancer and that he had only several months to live. The cancer could not be operated on, but medicine could be given to try to slow the advance of the disease. My grandfather quickly closed his practice and began to arrange his affairs. Thankfully, he has done very well on his therapy and while the disease is still as advanced as it was when it was discovered, it has not become much worse. He can still visit me and my family and is in good shape when I go to see him in Canada.
I understand that pancreatic cancer is a deadly form of cancer and that patients with this type of cancer usually live about 4 months after diagnosis. My grandfather has been diagnosed with this disease for over a year and miraculously is still alive; however I know that he will probably pass away within the next few years. I am very proud of my grandfather for trying to fight this disease and for spending time with me and my family. I am proud that he is trying to still live a happy, normal life and I want to make him even happier by biking to his house in Halifax, Nova Scotia, Canada.

Update - Letter from Jake's Dad
September 28th, 2006

Dear Johns Hopkins,

Thank you for all your help with Jake's fundraising effort. It has meant a great deal to all of us.
Unfortunately, Jake's grandfather passed away earlier this month. He was blessed with 16 months of good health and happy memories. He lived to see Jake reach Halifax and they celebrated the accomplishment together.
I have burned 11 photos on the accompanying CD. The photos are travel log of the trip from NJ to Nova Scotia. There are photos of the George Washington Bridge entering New York as well as photos as we entered Connecticut, Massachusetts, New Hampshire, and Maine. There are several photos in Halifax and one or two other shots.
The trip was a great experience. We covered an average of 75 miles per day over 10 days and took off the weekend in between. The weather was terrific, especially by August standards. We were rained on one morning, but that's not bad over 10 days. We met many people from all over North America and they were all very impressed with Jake and his idea. Hopefully we accomplished what we had hoped to accomplish and this endeavor will help cause cancer sufferers and their families in the years to come.
Thank you again for all your help.
Sincerely,
Martin Moskovitz, M.D., F.A.C.S.
Photos
Check out the photos of Jake's bikeathon, 700 miles from New Jersey to Nova Scotia, Canada.
Click to see the photos
▼