On May 3, 2009, Andy Moskowitz will run the Broad Street Run in Philadelphia to honor the memory of his grandfather Morris Moskowitz and raise money for the fight against pancreatic cancer. Join the fight against pancreatic cancer by helping raise money for Johns Hopkins Pancreatic Cancer Research Center.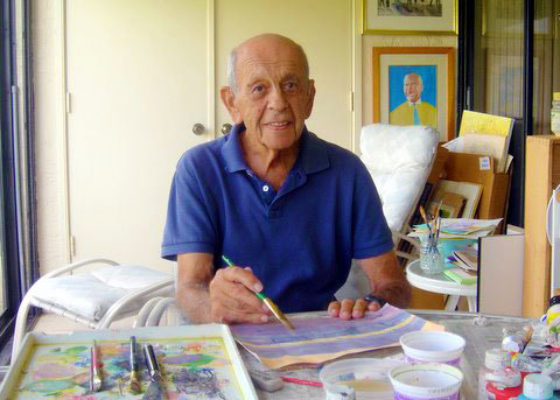 About Morris
Morris Moskowitz, a resident of Lake Worth, Florida since 1994, died Monday at his home after a year long bout with pancreatic cancer. He was 88.
Born in Bridgeport, CT on March 10, 1920, Mr. Moskowitz graduated from Bassick High School and worked as a dental technician. In 1940, he enlisted in the United States Army. He served in the South Pacific and returned home to the dental profession. In 1946, he married the former Eileen Gordesky, a native of The Bronx, NY to whom he was devoted for their nearly sixty years of marriage. Eileen passed away in April, 2007 from complications associated with Alzheimer's.
After leaving the dental industry, Mr. Moskowitz, who had a love for tinkering and building, started The Wood Shed, an unfinished furniture store in Bridgeport. He also helped launch his brothers into the same business throughout Southern Connecticut. Over the years, The Wood Shed's loyal customers not only relied on the store to provide furniture, but also on Mr. Moskowitz to help them design, build, and install pieces in their homes. He was especially and affectionately known as the "King of Shutters" for his expertise in hanging and repairing these window treatments. He sold the business and retired, volunteering for a period at The Jewish Home for the Elderly in Fairfield, CT., prior to moving to Florida in the early nineties.
Mr. Moskowitz's creative side manifested itself in other passions. He became a talented and award winning water colorist and painter, as well as an accomplished gardener and horticulturist. He enjoyed playing tennis, golf, and bridge.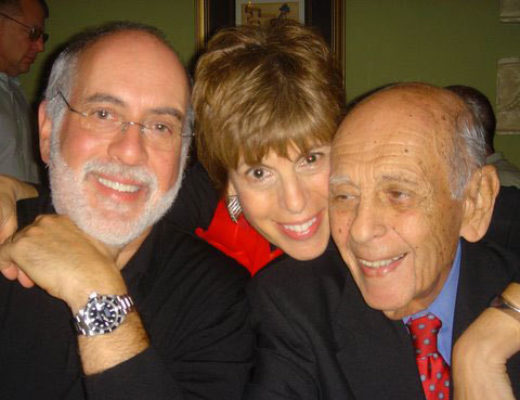 Moskowitz Family
Those who met Mr. Moskowitz were invariably impressed by his courage and determination. Indeed, after The Johns Hopkins University Medical Center surgical team had removed a portion of his pancreas last summer, they marveled at how many patients 20-30 years younger lacked his single minded commitment to recovery. He brought the same strength to everything he did in life.
On what turned out to be the last day of his life, Mr. Moskowitz was surrounded by his children and three of his four grandchildren. He told them that above all else, they made him happy and proud. He said as a young man he dreamed he would be a war hero or a famous entrepreneur. But he said while neither came to pass, he had been a good man and took great pride in that. Those who knew him, and especially his family, can say with certainty that this was a goal he accomplished throughout his long and loving life.
Mr. Moskowitz is survived by his son Steven of Villanova, PA, his daughter Rochelle of Chevy Chase, MD, his grandchildren Daniel and Andrew Moskowitz and Margot and Emma Lowenstein, and his step grandchildren Blake, Alex, and Sam Snyder.
Letter from Andy
▼

Dear Friends and Family,
As many of you know, my grandfather Morris Moskowitz succumbed to pancreatic cancer last year after a brave and inspiring battle. On May 3, 2009, I will run the Broad Street Run in Philadelphia to honor his memory and raise money for the fight against pancreatic cancer.
Please consider making a donation to the Sol Goldman Pancreatic Research Center, located at Johns Hopkins Hospital where my grandfather was treated. I have made a personal commitment to raise at least $2500 to support their research, and I hope you will help me reach this goal.
You can donate by check or credit card. Checks should be made out to Johns Hopkins University and mailed to:
Ralph H. Hruban, M.D.
Johns Hopkins Medical Institutions
600 N. Wolfe Street
Carnegie 417
Baltimore, MD 21287
Write "Morris Moskowitz" in the memo area so they can keep track of the total, and include a return address so they can mail you a receipt.
To use a credit card, visit the Sol Goldman Center's web site donation page and click "Donate by Credit Card." In section 2, be sure to select "Memorial" and enter the name Morris Moskowitz. You will receive an email confirmation and a receipt via snail mail.
Eighty percent of your donation goes directly to the researchers, while the remaining twenty percent goes toward infrastructure support for their research. All donations are tax deductible.
Since not everyone reading this message has personal experience with pancreatic cancer, I'd like to share some perspective. Pancreatic cancer has the #1 fatality rate of all cancers. It does not discriminate by age, gender or race and only 4% of patients will survive beyond 5 years. After my grandfather was diagnosed, he got the best possible treatment from the team at Johns Hopkins. But despite the assistance of one of the greatest pancreatic surgeons on the planet and several rounds of chemotherapy, cancer cells still managed to repopulate in his abdomen, ultimately killing him. This sudden and aggressive recurrence took all of us by surprise, just as we were beginning to feel hopeful about the future.
Pancreatic cancer is a merciless disease, but there is good news. The scientists at the Sol Goldman Center have recently completed the monumental task of sequencing the genome of 24 different pancreatic cancers. They now seek to translate this painstaking genetic research into treatments. These brilliant scientists stand at a critical juncture in their fight against pancreatic cancer, but they have been hindered by a recessed economy. Last week, Dr. Ralph Hruban, director of the Center, told me they've seen a sudden, sharp drop off in private funding. That's where we come in.
Thanks in advance.
Love,
Andy
Letter from Andy - Update
▼
Dear Friends and Family,
What an amazing few weeks I've had. On May 3, I finished the Broad St. Run in 1 hour and 28 minutes, a full 11 minutes under my goal. I almost finished in the top third of all finishers (missed it by 2%) and got to experience my first true "Rocky" moment (see pic).
More importantly, thanks to you, I surpassed my fund raising goal of $2500 by more than $100. Thank you from the bottom of my heart for your generosity, especially in times like these.
Lastly, I'm proud to say I'm the newest cast member of ComedySportz Philly, the oldest (and best) improv show in the City of Brotherly Love. I'll be on stage starting in late August and will perform regularly on Saturday evenings. I'd love it if you came to see me.
Love,
Andy