Home >
Suzanne Larsen Fund
The Suzanne Larsen Fund For Pancreatic Cancer
My name is Rob Larsen and I am raising money for pancreatic cancer research in honor of my mother Suzanne Larsen, who died from the disease in 1999. I have committed to riding my bike 100 miles on June 15, 2002 in the hope that it will inspire donors to make a contribution toward pancreatic cancer research at Johns Hopkins University.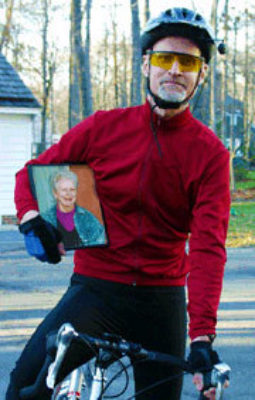 Ride for Mom
I'm calling this fundraiser "The Ride For Mom 1" because I hope to make it the first of many annual rides dedicated to raising money for this worthwhile cause.
My goals are:
to raise $1,000 for pancreatic cancer research at Johns Hopkins,
to help those suffering from this dreadful disease, and
to raise awareness of the disease
I am doing this in honor of my mother because she was my one of greatest allies throughout my life and especially during my own battles with cancer back in the late '80s. (I had testicular cancer and acute leukemia for which I was successfully treated with a bone marrow transplant in 1989.) Mom was a talented artist who had a love for life and laughter that was infectious. For Mom, creativity was as natural as breathing. I am also doing this because I love cycling - it has been a passion of mine for about 30 years and was a big part of my recovery from illness. I know from my own experience that research money toward cancer research can and will make a difference. Please make a contribution today to Johns Hopkins University toward this vital research.

Update
The first annual Ride for Mom was a huge success! As of June 18th, Rob has raised almost $4000- that's four times his original goal. We sincerely thank Rob for his efforts in raising money and awareness of pancreatic cancer.