News for 2020
In Memoriam - Prabodh Gupta, M.D.
Dec 23, 2020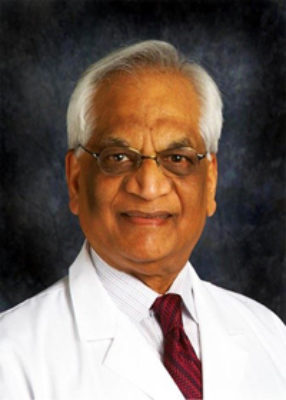 It is with great sadness that we report that Dr. Prabodh Gupta passed away.
Dr. Gupta was trained in Cytopathology at Johns Hopkins under the supervision of Drs. John K. Frost and Yener S. Erozan and served on the faculty for nearly two decades before moving to the University of Pennsylvania in 1988.
At the time of his retirement in 2015, Dr. Gupta was Professor of Pathology and Laboratory Medicine, Director of Cytopathology and Cytometry Laboratory and the Fellowship Program at the University of Pennsylvania School of Medicine. Born in India, he trained at the Massachusetts General Hospital, Harvard Medical School in addition to fellowship training at The Johns Hopkins Hospital. Dr. Gupta demonstrated exemplary dedication and commitment to education. Many of his mentees occupy senior positions in the most prestigious medical centers.
Dr. Gupta participated in numerous national and international scientific gatherings and delivered over two hundred lectures, workshops, seminars and visiting professorships. Dr. Gupta served as the American Society of Cytopathology (ASC) President in 1996. Besides the ASC, he served in various positions of responsibilities in a number of professional organizations including the National Science Foundation, the National Institutes of Health, the World Health Organization and the United Nations. He was a member of the board of examiners of the International Academy of Cytology. He published nearly 250 scientific articles and chapters encompassing gynecologic, pulmonary and urothelial diseases as well as fundamentals and basic concepts of cytopathology. Dr. Gupta has received numerous honors including the most prestigious Papanicolaou Award in 2001 and the Excellence in Education Award in 2011 of the American Society of Cytopathology. Dr. Gupta recently moved to Houston to be near his daughter and grandchildren. Dr. Gupta passed away due to complications with COVID-19.
During this time, our thoughts and prayers are with his family, mentees, and friends.
Metagenomic Next-Generation Sequencing
Dec 11, 2020
The Medical Microbiology Division is excited to announce the availability of a laboratory-developed metagenomic next-generation sequencing test on cerebrospinal fluid specimens for the diagnosis of meningitis and encephalitis when standard of care testing is unrevealing. The assay was co-developed by Patricia Simner, Ph.D., director of the infectious diseases sequencing laboratory, and Heather Miller, M.S. in collaboration with Carlos Pardo, M.D., Professor of Neurology, and with bioinformatics support from Steven Salzberg, Ph.D. Metagenomic next-generation sequencing is an untargeted approach for detection of pathogenic nucleic acid (e.g. bacteria, virus, parasite and fungi) performed directly from CSF specimens. The mNGS test should be considered as an adjunct to standard-of-care methods (e.g., antigen detection, direct stains, culture targeted PCRs, etc.) and reserved for cases where standard-of-care testing is initially unrevealing. As such, Medical Microbiology Faculty approval will be required prior to ordering the test.

The mNGS test will be setup once weekly starting on Wednesdays so orders must be received by Tuesday of that week to qualify for the run. The test has a 5 day turn-around time due to the complexity of the method. Interpretation and final report generation are performed by laboratory directors and may involve a precision medicine team including neurology and infectious disease representatives.
The assay went live on October 26th. Within a very short time, the assay detected an unusual parasitic cause of encephalitis in a patient with chronic and progressive neurological deficits. A definitive diagnosis in this patient has allowed for expedited targeted therapy for a syndrome not easily detected by standard-of-care testing.
In Memoriam - William Merz, Ph.D.
Nov 25, 2020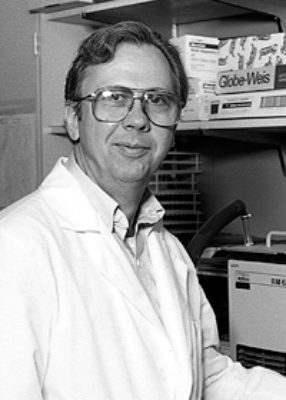 Professor William Merz, retired Mycology Laboratory Faculty Director in the Division of Medical Microbiology, passed away from complications of Parkinson disease on November 22. Dr. Merz retired in January 2009 after a very long and productive career in the Department of Pathology at Johns Hopkins University School of Medicine. Dr. Merz was recruited to Johns Hopkins in 1974 by Dr. Patricia Charache from Columbia Presbyterian Hospital and Columbia University in New York where he was the Associate Director of the Mycology Laboratory and Instructor in Dermatology at the time. His research focus while at Columbia was primarily in the area of dermatophyte infections.
Dr. Merz received his bachelor's degree in Botany from Drew University and his PhD in 1968 from West Virginia University in Microbiology. From 1968-1970 he did an NIH postdoctoral fellowship at Columbia University also in Microbiology. In 1987 he took a sabbatical to focus on molecular biology and genetics. In addition to serving as the Director of the Mycology laboratory for 34 years, Dr. Merz held numerous other positions and appointments. He held a joint appointment in Molecular Microbiology and Immunology in the JHU Bloomberg School of Public Health and Hygiene, Directed the Molecular Epidemiology laboratory in the Microbiology Division and was Acting Director of the Microbiology Division from 2000-2002.
During his extensive career, Dr. Merz authored over 145 peer-reviewed publications, numerous books and book chapters and served as Co-editor of Topley and Wilson, Volume IV Medical Mycology from 1999-2005. He served on the editorial board of several journals including the Journal of Clinical Microbiology. He received numerous awards both for his excellent teaching and for his contribution to the field of Medical Mycology. The latter include the prestigious Max Littman Medical Mycology Society of NY Award and the Medical Mycology Association's Billy Cooper Memorial Meridian Award for Clinical Mycology. Dr. Merz won the JHU Pathology Housestaff Clinical Pathology (CP) Teaching Award three times and in 2006 was presented simultaneously with the CP award and the Pathobiology Teaching Award.
Numerous graduate students, residents, medical technologists and fellows across numerous departments recognized him as a fabulous and influential mentor. They cited his wicked sense of humor as one his memorable attributes. All colleagues appreciated his support of clinical programs, his extensive knowledge base in Medical Mycology so key to patient care at Johns Hopkins Hospital, and his wonderful collaborative spirit.
Bill is survived by his wife, Cindy, retired supervisor of the Immunology laboratory and two daughters. Details regarding funeral or memorial services are not available at this time.
Congratulations, Dr. Deyin Xing!
Oct 20, 2020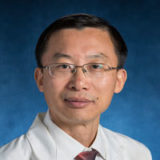 Deyin Xing received the Clinician-Scientist Career Development Award from the Johns Hopkins School of Medicine which began in January 2020, for his research proposal "A novel, spontaneous ovarian serous carcinoma model for the development of innovative cancer immunotherapies."
The purpose of this award is to promote the research career development of young faculty physicians in the clinical departments and to protect the research time of qualified individuals.
Allocations from this fund are based on a competitive application process, which is tied closely to concurrent efforts to obtain external support of research. This initiative was developed to address the problem of increasing pressures on young faculty to expend substantial clinical effort in order to generate sufficient funds to support their salaries.
Dr. Xing wants to especially thank his project mentors, Dr. T.-C. Wu and Chien-Fu Hung.
Congratulations, Dr. Eric Gehrie!
Oct 3, 2020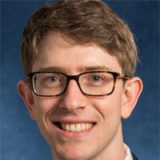 The American Society for Clinical Pathology (ASCP) has recognized Dr. Eric Gehrie for his commitment to the ABIM Foundation's Choosing Wisely campaign. He was chosen for advancing appropriate test utilization and demonstrating leadership of a local Choosing Wisely effort.
Dr. Gehrie's work with platelet transfusion demonstrates appropriate use of blood products is essential for maintaining a safe and evidence-based clinical environment. Congratulations, Eric!
To read more abot the 2020 Choosing Wisely Champions, click here.
To learn more about ASCP's involvement in Choosing Wisely, visit www.ascp.org/choosingwisely.
pSMILE Receives ISO 9001 Certification
Aug 7, 2020

Patient Safety Monitoring in International Laboratories (pSMILE) was awarded ISO 9001 certification, an internationally recognized standard that ensures that products and services meet the needs of clients through an effective quality management system. pSMILE is a contractual resource designed to evaluate and develop the capability of laboratories to participate in the National Institutes of Health - Division of AIDS (DAIDS) - supported prevention, vaccine and therapeutic clinical studies conducted in developing countries. The program ensures the integrity and reliability of tests for monitoring safety and efficacy of experimental products investigated in DAIDS studies.

As part of the ISO 9001:2015 certification process, pSMILE developed and implemented a quality management system to improve overall performance and maintain a high-level of quality and strong customer service. A rigorous external audit of their business processes as well as their service environments was passed with flying colors. Congratulations to Peggy Coulter, Orlinda Maforo, and Anne Leach, who led the certification effort, and to all on the pSMILE team.
Happy Birthday Heppy!
Aug 4, 2020
Robert Heptinstall, M.D. ("Heppy") turned 100 on July 22nd! Heppy was the Baxley Professor and Director of the Department for almost twenty years (1969-1988). An expert in renal pathology, he wrote the standard textbook "Pathology of the Kidney," now in its seventh edition.
Dr. Ralph Hruban presented Heppy with a box of birthday wishes collected from friends, colleagues and family members from around the world. Later in the day Heppy's surviving children presented him with beautiful cake and a bagpiper even came and played! Happy birthday Heppy!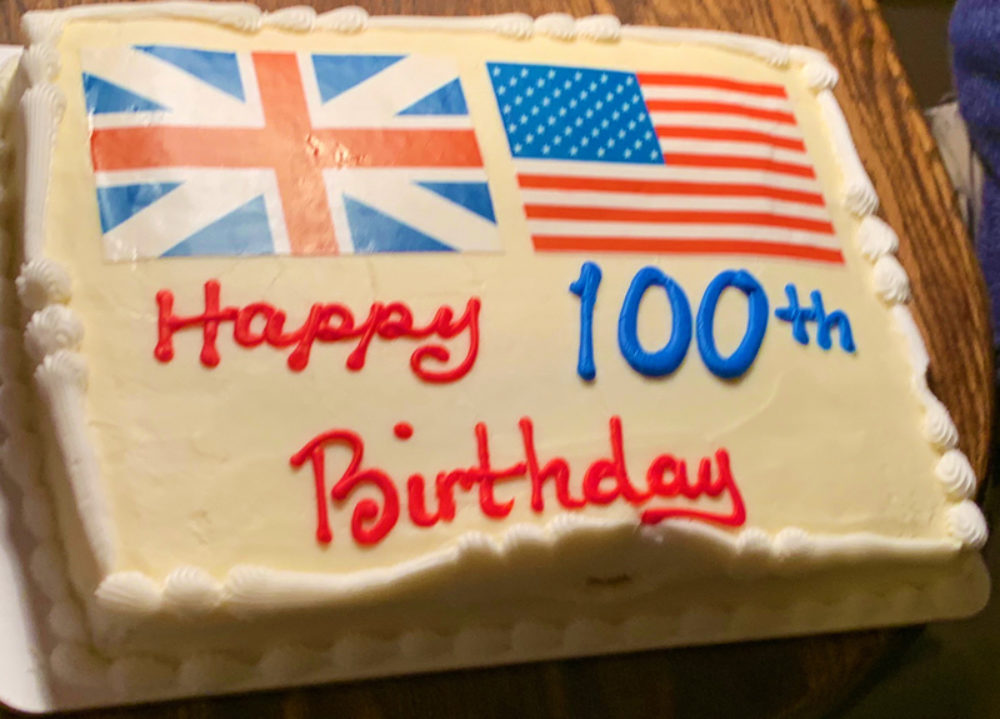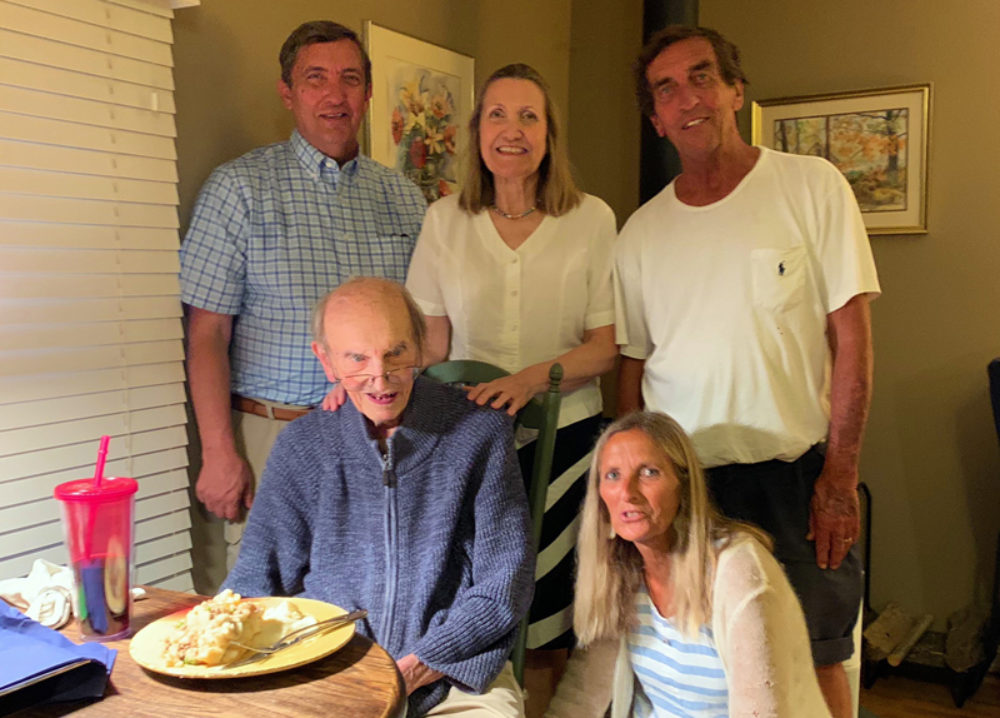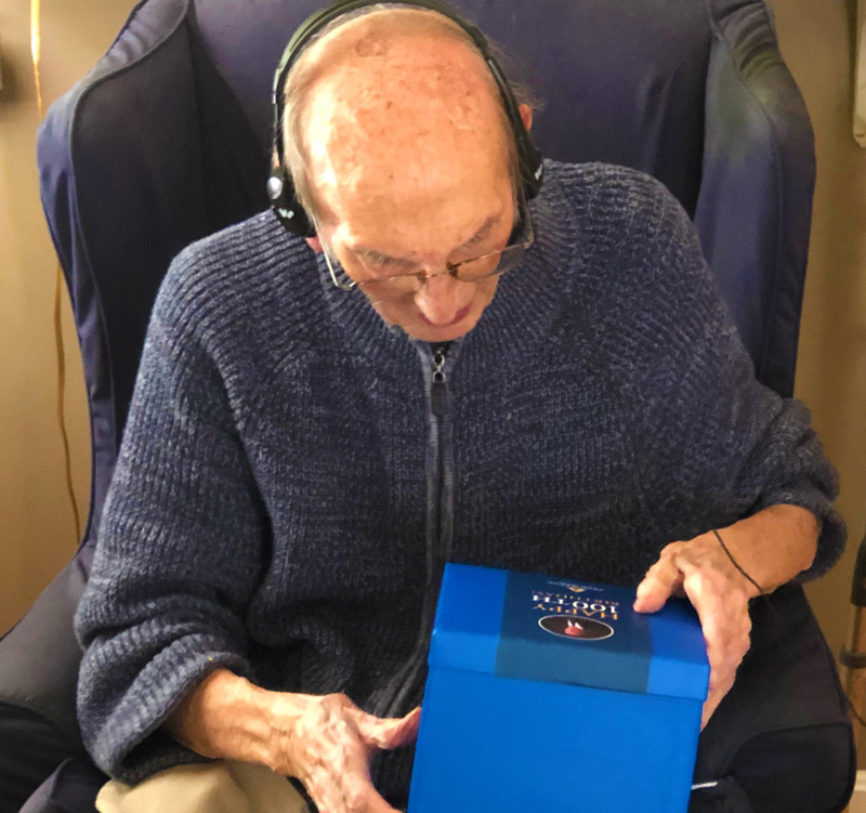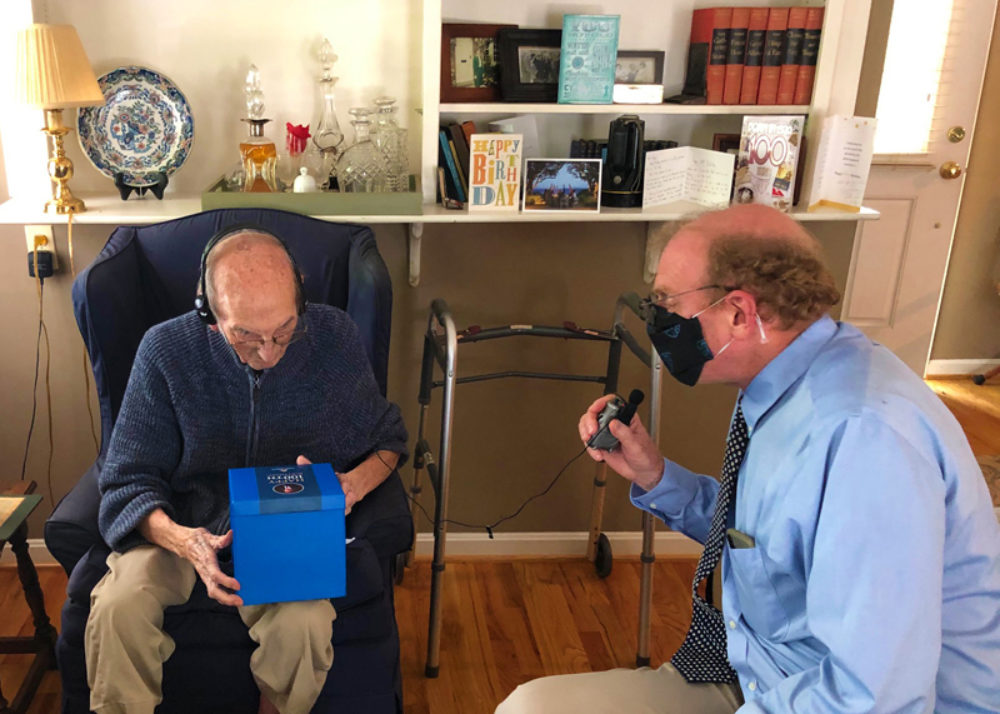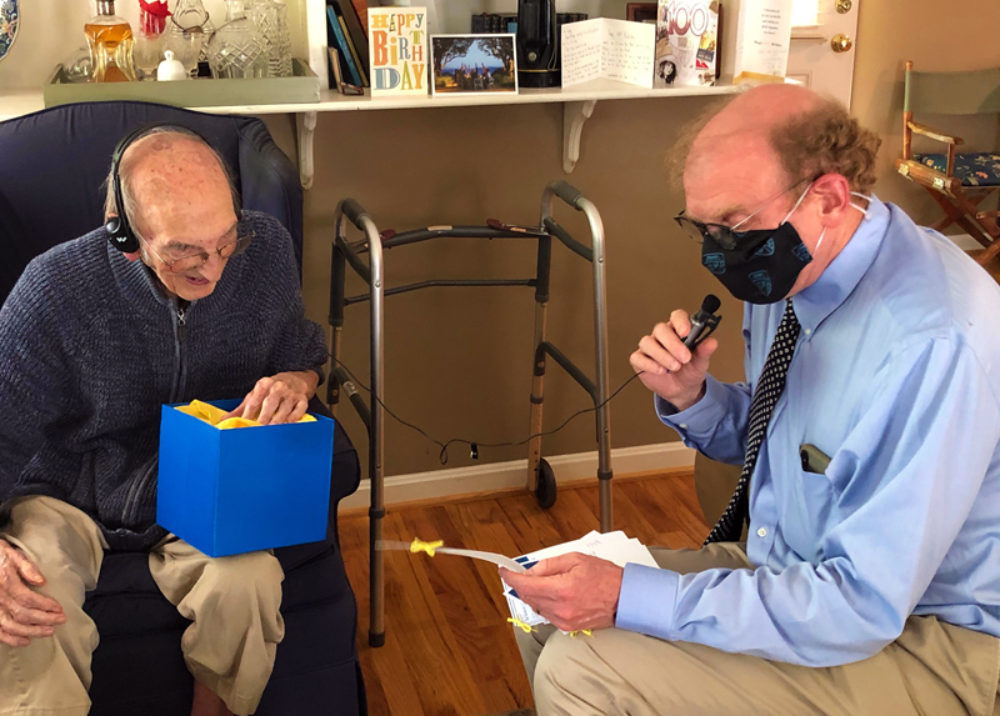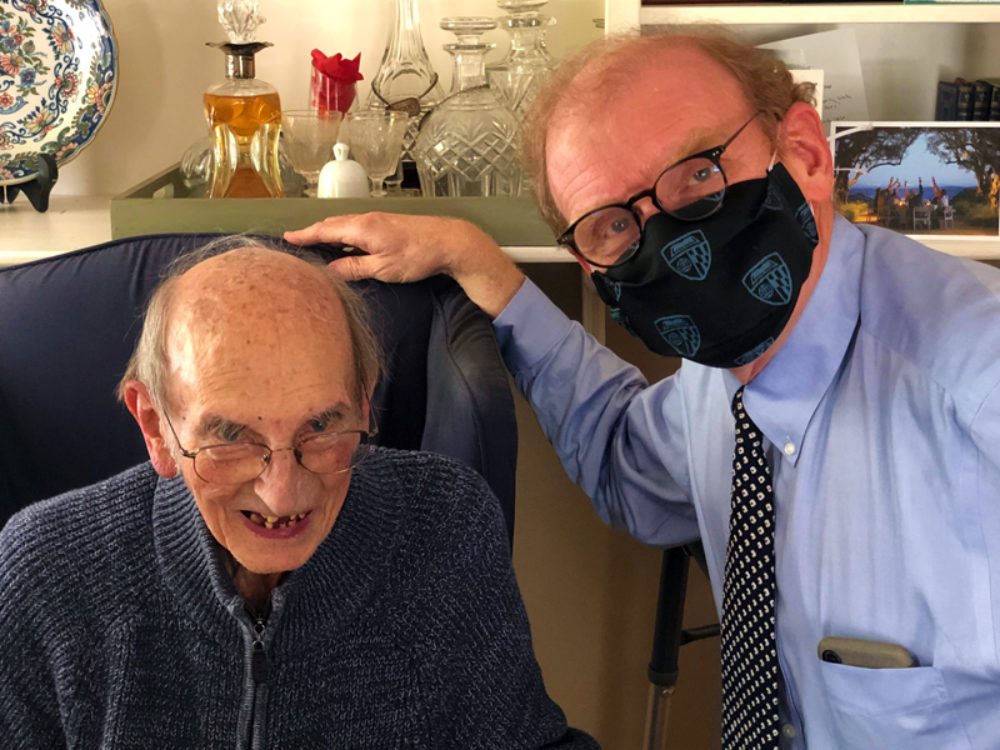 In memoriam - Noel R. Rose, M.D., Ph.D. (1927 - 2020)
Aug 4, 2020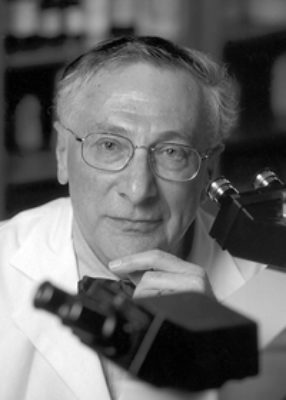 Dr. Noel R. Rose passed away peacefully on Friday, July 31, in his home in Brookline, MA. Of Hungarian Jewish descent, he was born and raised in New York. His father, a family physician, greatly influenced his career choice. After college at Yale and a PhD in medical microbiology at the University of Pennsylvania, in 1951 Dr. Rose moved to Buffalo for medical school and to follow his lifetime mentor, Dr. Ernest Witbesky. Together they performed experiments in rabbits that established autoimmunity as the cause of Hashimoto thyroiditis, eventually publishing a landmark paper in JAMA in 1957. Dr. Rose went on to an illustrious career focused on two autoimmune diseases (thyroiditis and myocarditis) but always centered on the fundamental mechanisms of disease, overall he published more than 800 papers.
An excellent summary of his scientific accomplishments can be found in the June 2020 article in The Scientist.
The three of us have been affiliated with Dr. Rose for decades, and decided to offer a few recollections.

"Today I heard of Dr. Rose's passing, and it felt as if I had lost my father and mentor. Dr. Rose was undoubtedly a pioneer and a giant in the field of immunology, a role that he maintained for many decades, and the reason he was called the "Father of Autoimmunity".

Dr. Rose was the one who recruited me to the department in 1996 and was always supportive and made me feel welcomed. Despite his grand accolades, Dr. Rose treated people around him with the highest respect, in an unbiased manner, and with kindness. His brilliant mind and vast knowledge AND this character naturally prompted a deep respect in all who knew him.

He was a renaissance man; he was interested in music, opera, and the Arts in general. He his lovely wife Deborah both studied playing the piano alongside perfectly managing his complex and busy career; his lab, his Department and Division, his editorial responsibilities of several journals, writing several hundred papers, and getting his NIH grants renewed for fifty years! Sometimes they gave pre-opera parties in their apartment with members of the Baltimore Opera in attendance, performing an entire upcoming opera on the piano and going through the scores. I have two sons who played the piano growing up, and Dr. Rose and Debora did not miss an opportunity to help them by inviting them to play in their home, attending their concerts when in Baltimore, or Washington, and introducing them to influential friends. He and Debora were gracious hosts, used to invite Pathology/immunology colleagues for their annual Holiday parties in their home and cooking for everyone, which was not trivial.

Dr. Rose loved teaching. I served as the Course Director to Graduate Immunology for many years, and finding the right professor to teach different subjects was always a challenge. But, when I asked Dr. Rose to give a lecture on autoimmunity, he accepted it with pleasure- and continued teaching for several years. He never missed attending our trainees' weekly research presentations and always asked questions that would help the presenters and the attendees into a deeper perception of the projects.

Dr. Rose would always be missed but never forgotten." Scheherazade Sadegh-Nasseri
"I worked closely with Dr. Noel Rose from 2002 until his retirement from the Johns Hopkins University in 2016. My PhD was in the field of autoimmunity, so you can imagine that I was quite excited to join the lab led by Dr. Rose, one of the highly regarded founders of this whole area of research. I was familiar with his key contributions, but as a diligent postdoctoral fellow, I was determined to read all of his papers. So, upon joining the lab, I asked his secretary for a complete list of Dr. Rose's publications. I was surprised when she brought me a large stack of papers. I was asking just for a list, not the actual printouts of all the papers. But the secretary clarified: that was just the list. And indeed, there were over 800 publications. I realized that it would take me more than a while to read every single one of them. Noel was a prolific writer and had an excellent recollection, often dictating polished texts, already with appropriate references, from the top of his mind. My fondest memories relate to our in-depth discussions on latest discoveries and articles. He was an active reader, who enjoyed reading the actual journals in paper form, always carrying with him copies of Nature, Science, Journal of Immunology and others, reading them cover to cover.

I will always cherish the fond memories of my time working with Noel. And I will particularly miss his infectious love of science, and his willingness to discuss it with anyone, anywhere, anytime." Daniela Čiháková
"I met Dr. Rose when I first came to Baltimore in February 1993. My mentor in Italy had interacted with Dr. Rose at a thyroid symposium and came up with the idea of sending a fellow across the Atlantic to combine American expertise in the laboratory with Italian knowledge of clinical thyroidology. I was supposed to be in Baltimore for only 3, but I am still here after 27 years. I owe it to Dr. Rose. I have so many memories of him that is difficult to choose. First of all, he was a true gentleman, bright but not arrogant, kind but decisive, a speaker but also a listener. While a fellow in his laboratory in the mid 1990s, I remember the many times he stopped by the benches to check what experiments were going on, driven by genuine curiosity and marvel for learning. If I was at the desk rather than the bench, he stopped and talked about many things, from opera to tennis, his passions outside of work. If the experiments did not work, he always made you feel there was an answer, a solution. In truth, he always made you feel better than what you really were.

I learned many things from Dr. Rose, most often discussed after a tennis game on Sunday morning. Perhaps the ones to mention here are two. He taught me that in American academia "if you do not say you are good, nobody will say it for you". How important of an advice in this society! And he taught me that when you need to finish something at night and you are tired, "go to the bathroom and splash cold water on your face". It really works! Dr. Rose was a persistent and dedicated worker, but he also knew how to enjoy life. When he had some free baseball tickets in his hand, he used to say "we work hard and we play hard in this lab". And how can I forget his famous comment when someone was taking a vacation "this is the worst possible time for a vacation", initially delivered seriously and then quickly converted to a smile when distress in the listener was noted.

Dr. Rose was a pioneer in many respects. He involved me in the Diversity Summer Internship program (run by the School of Public Health), which is designed to jump start a life science career for minorities, more than 15 years ago, thus well before the present-day political commotions. Recounting the work leading to his 1957 JAMA paper, which established the criteria to define a disease as autoimmune, he perfectly depicted a classic human trait: when reporting something new, people will first say "that is not possible", then they will say "of course, that is what happened", and then "I knew this all along, I told you so". How relevant to the present pandemic!

Dr. Rose loved listening to people's stories and give advice. He always had some good ones, and you could be sure they would be sincere. Many times he told me that, if given the opportunity, he would have had cherished a career in public service. His wishes are realized: he leaves a legacy that touches many aspects of public health. I will miss him." Patrizio Caturegli
"Today we have lost one of the greatest immunologists of our time, Noel R. Rose, M.D., Ph.D. (December 1928 - July 2020). Dr. Rose, considered to be the 'Father' of Autoimmunity, is remembered for establishing the first animal model of autoimmune disease, thus opening a whole new field of research into human disease. But to many who knew him and worked with him, he was more than that. First and foremost, he was a meticulous scientist always searching for knowledge, a voracious reader of and prolific contributor to the scientific literature, editor of many scientific publications, textbooks in clinical immunology and immunology reviews. Dr. Rose was a visionary, father, grandfather, and great-grandfather, and for many of us a mentor, a friend and family by choice. For my own family, in particular, Dr. Rose and his dear wife Debbie were indeed family by choice. Our close bond, lifelong friendship, and collaboration on countless projects over the years, begun when we first came to Baltimore (in early 1987) to work at his Laboratory. At the time Dr. Rose was the Chairman of the Department of Immunology and Infectious Disease at the Johns Hopkins School of Public Health (now known as the MMI department at the Johns Hopkins Bloomberg school of public health). Stepping down after many years as Chairman, I followed him as he moved his Laboratory to the department of Pathology SOM, JHU. From our early days working together, we forged a close working relationship punctuated by mutual respect and challenges aimed at establishing new models of autoimmune diseases, Hopkins' first Immunologic Disorders Laboratory (a Certified CLIA Clinical Laboratory), the establishment of a WHO collaborative laboratory, and 'The Autoimmunity Day' (later aptly renamed: The Noel and Debbie Rose Autoimmunity Day), a yearly gathering and lecture series of world leaders in immunology from the USA and around the globe. For Dr. Rose research was like breathing science as fresh air, continuously challenging others, celebrating together achievements and milestones big and small. We truly have lost a dear friend. We have also lost a 'giant' in the field of immunology with a unique world prospective.

The Mishna says: "find yourself a teacher and make yourself a friend", and this teaching is certainly true for Dr. Rose. He was a great teacher of immunology, a teacher of life, a mentor and foremost a loyal friend.

Dr. Rose will forever be missed by the World's scientific community and remembered for his countless contributions to a better understanding of immunology. But mostly, he will be missed by those who were lucky enough to have been in his presence, listen to and absorbed his wisdom, recounting the stories of the early days of immunology, as a fledgling field, and taking away life lessons.

May his memory be a blessing to Debbie, his family and all who knew him." Monica Talor
Johns Hopkins' Efforts to Develop a COVID-19 Test
Jul 27, 2020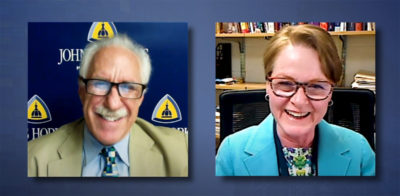 Karen Carroll, director of the Division of Medical Microbiology, recently spoke with Paul Rothman, dean of the medical faculty and CEO of Johns Hopkins Medicine, about Johns Hopkins' efforts to set up testing for COVID-19. Among other topics, they discuss how Johns Hopkins developed its first test and possible future testing approaches. Watch the recording of their conversation.
Lectures on the History of Johns Hopkins University School of Medicine
Jun 22, 2020
For those of you interested in medical history, Dr. Ralph Hruban will be giving a series of four lectures on the history of the Johns Hopkins University School of Medicine through the "Hopkins at Home" program. This four-part, lecture-based course entitled "Lessons for Today from Nine Greats who Helped Create Hopkins Medicine," will be held on four consecutive Wednesdays from 5:00 PM - 6:00 PM EST in July. The lectures will tell the story of the founding of the Johns Hopkins University School of Medicine through the lives of nine extraordinary individuals- John Shaw Billings, Mary Elizabeth Garrett, William Halsted, Jesse Lazear, William Osler, Helen Taussig, Vivien Thomas and William Welch. Each of these greats faced enormous challenges and had unimaginable impact. Each lecture will be followed by a brief discussion of lessons for today that we can learn from the way they each lived their lives.
Congratulations, Dr. Shuying Sun!
Jun 18, 2020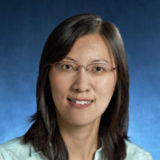 Shuying Sun recently received the Johns Hopkins Catalyst Award from the Office of the Provost. These awards support the research and creative endeavors of early career faculty across Johns Hopkins. The current cohort, named in June 2020, includes 36 early-career faculty members from across the University, including the Schools of Arts and Sciences, Carey Business School, Medicine, Engineering, Peabody Institute, Public Health, and Advanced International Studies. The group includes anthropologists, astronomers, economists, and engineers (among many others!), and Dr. Sun was among only 14 awardees from the School of Medicine. The goal of the Catalyst Award is to launch these faculty members on a path to a sustainable and rewarding academic career. These aw ards include both funding and mentoring opportunities and will greatly support the expansion of their independent research groups. Dr. Sun's project is understanding the role of m6A RNA methylation in C9ORF72-linked Amyotrophic lateral sclerosis (ALS) and Frontotemporal degeneration (FTD). Congratulations, Shuying!
White Coats for Black Lives
Jun 5, 2020
As part of a national effort to demonstrate support for equality and racial justice, the Johns Hopkins House Staff Diversity Council organized a White Coats for Black Lives observance on June 5.

Pathology faculty, staff and trainees joined, and "took a knee" as a memorial to George Floyd and others who have lost their lives. The department is committed to the care of our patients and to our community.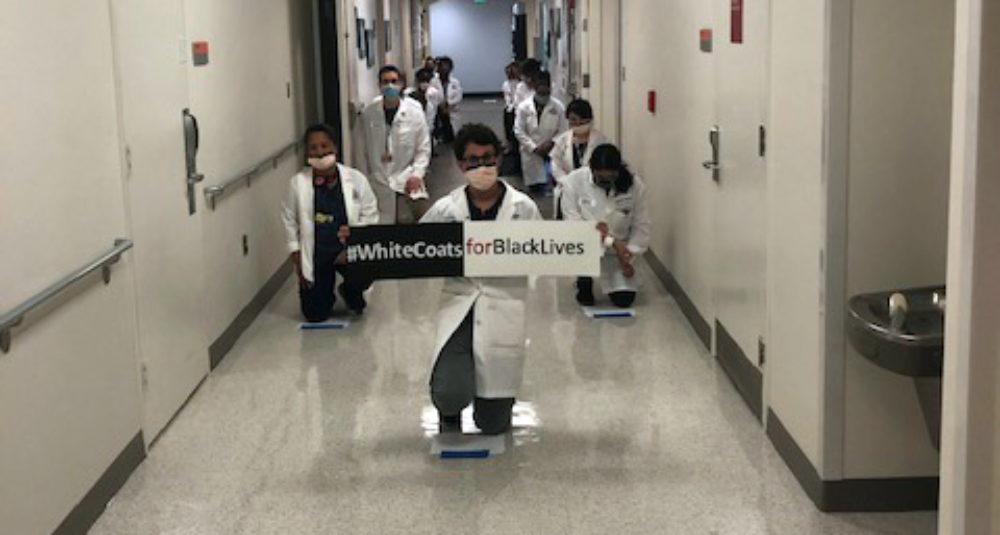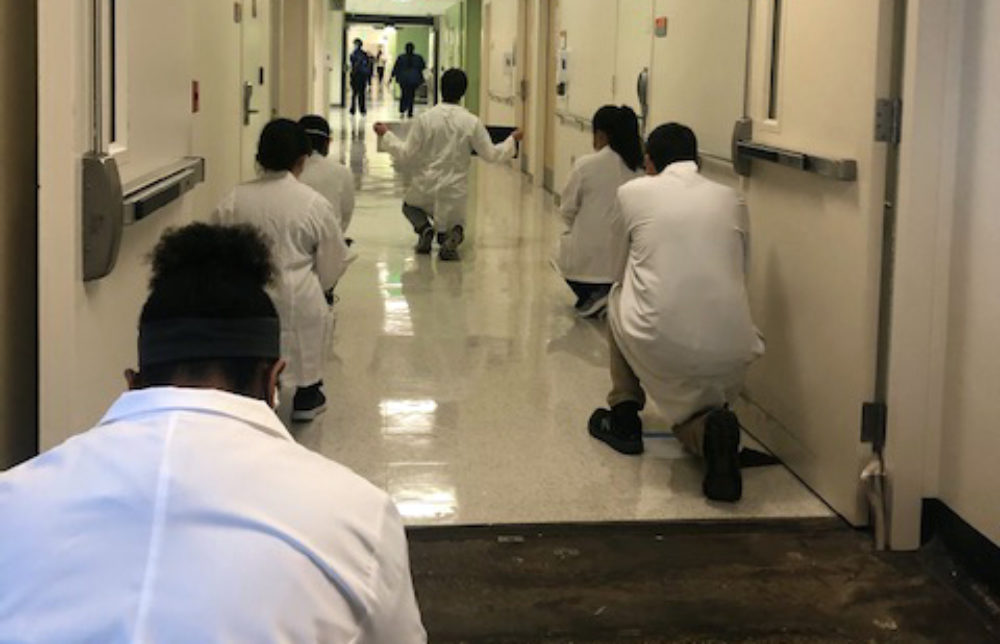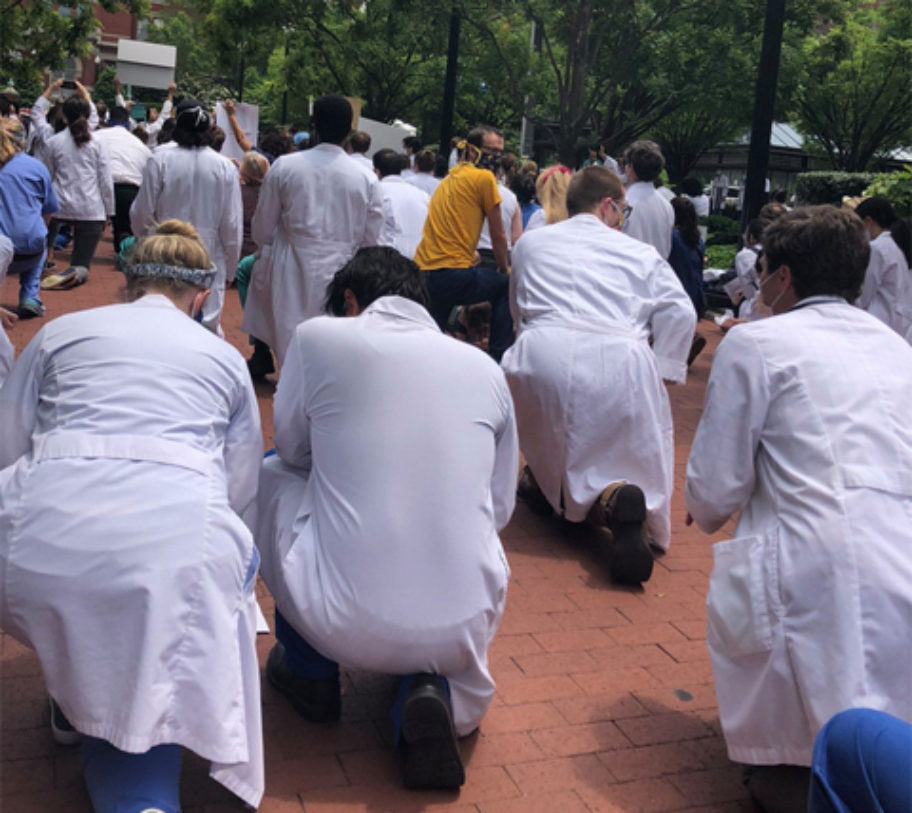 Congratulations, Lorraine Blagg and Eric Gehrie!
Jun 4, 2020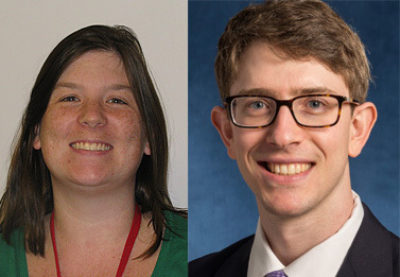 Congratulations to Lorraine Blagg and Eric Gehrie. Their paper, describing our Pathology Education Symposium, was just published in the Archives of Pathology and Laboratory Medicine. Lorraine and Eric report that the symposium has increased participation in continuing education while reducing costs. They also emphasize that broad participation has helped "build a team culture in the department." Well done!
Congratulations, Dr. Seena Tabibi!
May 29, 2020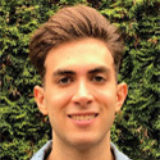 First-year resident Dr. Seena Tabibi was honored with a Johns Hopkins Safety Star for an action he took in February while on rotation in Transfusion Medicine. Seena went above and beyond to thoroughly investigate a situation that would have caused harm to a patient. The award recognizes individuals whose extraordinary actions have identified hazards and prevents harm to patients. Way to go, Seena!
Royal Decoration for Johan Offerhaus
May 22, 2020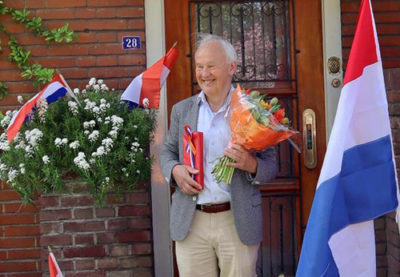 Congratulations to Johan Offerhaus! Johan will receive a Royal Decoration as 'Knight in the Order of The Netherlands Lion'.
A long-time friend and collaborator to many in our department, Johan was one of the first graduates of our GI/Liver Pathology fellowship training program.
Johan recently retired as a professor at the University of Utrecht in The Netherlands. Prior to his retirement, Johan held an adjunct appointment in the Department of Pathology here at Hopkins.
A wonderfully well-deserved honor!
Tribute to Mr. Rusty Ghee
May 3, 2020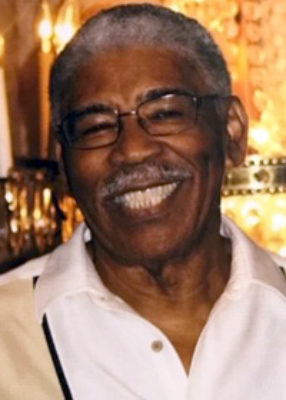 We are saddened by the passing of long-time Pathology employee and laboratory computer programmer Clarence "Rusty" Ghee, who died recently after a many-month struggle with cancer. Rusty was known for his technical skills, and also for his wonderful singing voice and his perennially cheerful personality. He was clearly a favorite of all who knew him.
Rusty began working at The Johns Hopkins Hospital as a computer operator almost 50 years ago, when punched cards were used with the laboratories' IBM computer, which was housed on the fifth floor of the Carnegie building adjacent to the old Chemistry Laboratory.
Rusty quickly became interested in computer programming and studied to become a programmer for the laboratories, where he contributed skillfully and tirelessly over the decades to the growth and evolution of the Johns Hopkins Laboratory Information System (LIS).
In addition to his important contributions to the technical development of the Hopkins LIS, Rusty's many skills included an encyclopedic knowledge of virtually every detail of the computer system. Rusty was the expert on subtle or difficult problems with the laboratory system, and was always the "go-to" person for computer problems -- even during his final illness.
Rusty's accomplishments as a programmer were also highlighted in The Johns Hopkins Hospital's 1980 Annual Report.
Among Rusty's other consuming passions were his music and his singing. In recent years, with his wife Felecia accompanying him on the piano, they performed at multiple religious services virtually every weekend in their community and across the Baltimore region.
In addition to his wife Felecia, Rusty is survived by his children Clarence "Little Rusty", Jason and Kayla, seven grandchildren, a great-granddaughter, and a large extended family. He was preceded in death in 2009 by his wife Julietta, who also was a longtime Pathology employee.
Rusty and his many contributions will long be remembered by all who knew him and worked with him.
Congratulations to Dr. Janielle Maynard!
Apr 27, 2020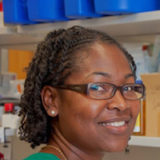 Dr. Maynard, a postdoctoral fellow working in the laboratory of Karen Sfanos, Ph.D., has been selected as the inaugural recipient of the 2020 Postdoctoral Excellence in Mentoring Award. The selection committee noted the "depth and breadth" of her mentoring activities, her efforts in promoting an inclusive and diverse mentoring environment, and her leadership in the School of Medicine. The award ceremony is delayed because of the COVID-19 pandemic, but please congratulate Janielle virtually!
National Medical Laboratory Professionals Week, April 19-25
Apr 19, 2020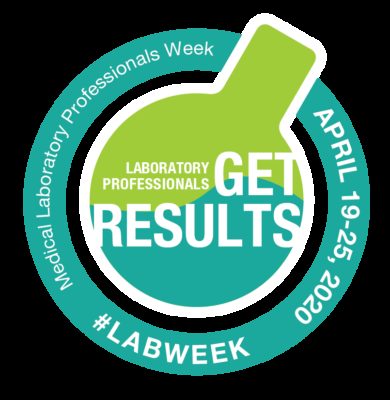 The Department of Pathology celebrates National Medical Laboratory Professionals Week, April 19-25, 2020. The Department thanks all of its employees for their dedicated service and commitment to patient care.
"Looking forward, April 19-25 is Lab Week! We won't be able to hold our usual in-person celebrations, but we will be creative and, most importantly in these challenging times, we will express our profound and deep appreciation to everyone working in the labs!"
-Ralph Hruban, M.D.
Director of the Department of Pathology
Blood Drives at JHM Campuses Added to Schedule
Apr 3, 2020
The COVID-19 pandemic has diminished the blood supply, due social distancing procedures leading to the cancellation of blood drives. Donor who feel well and are eligible to donate are encouraged to sign up to donate at www.redcross.org to help assure a steady supply of blood to the hospital. Below is a list of upcoming blood drives.
Location
Address
Date
Johns Hopkins Bayview Medical Center
4940 Eastern Ave
Baltimore, MD - 21224
4/3/2020
Johns Hopkins Medical Institutions
615 North Wolfe Street
Bloomberg School of Public Health
Baltimore, MD - 21205
4/7/2020
Johns Hopkins Medical Institutions
615 North Wolfe Street
Bloomberg School of Public Health
Baltimore, MD - 21205
4/17/2020
Johns Hopkins Bayview Medical Center
4940 Eastern Ave
Baltimore, MD - 21224
4/17/2020
Johns Hopkins Bayview Medical Center
4940 Eastern Ave
Baltimore, MD - 21224
4/20/2020
Johns Hopkins Bayview Medical Center
4940 Eastern Ave
Baltimore, MD - 21224
4/21/2020
Johns Hopkins Bayview Medical Center
4940 Eastern Ave
Baltimore, MD - 21224
4/22/2020
Johns Hopkins Bayview Medical Center
4940 Eastern Ave
Baltimore, MD - 21224
4/23/2020
Sibley Memorial Hospital
5255 Loughboro Road, NW
Washington, DC - 20016
4/23/2020
Johns Hopkins Medical Institutions
615 North Wolfe Street
Bloomberg School of Public Health
Baltimore, MD - 21205
4/24/2020
Johns Hopkins Medical Institutions
615 North Wolfe Street
Bloomberg School of Public Health
Baltimore, MD - 21205
4/28/2020
Based on previous experience with SARS, MERS and influenza, as well as emerging understanding of SARS-CoV-2, the blood banking community does not believe that the COVID-19 pandemic poses an infectious risk to the blood supply. Consistent with this sentiment, none of the groups that oversee blood bank activities (AABB, FDA, and CDC) have required any additional donor testing due to the COVID-19 pandemic. We recognize that members of our Johns Hopkins Community will likely read scientific studies indicating that SARS-CoV-2 RNA can be detected in the blood of some patients that are suffering from COVID-19. This is true of other respiratory viral infections as well. The blood bank community is aware of these reports, but based on what is known about the natural history of SARS-CoV-2 infection, it is the overwhelming opinion of experts that the general donor requirement to have a normal body temperature and "feel well" on the day of donation is adequate protection against transmission of SARS-CoV-2 via blood. Out of an abundance of caution, the American Red Cross and other blood suppliers are also voluntarily deferring prospective donors who are identified as having a risk factor for exposure to SARS-CoV-2 during the general donor screening process.
Overall, prospective blood donors who feel well, are without fever, and who have not been diagnosed with COVID-19, or in contact with a COVID-19 patient or suspected patient in the last 28 days, have not travelled to Iran, Italy, South Korea, China, Hong Kong or Macau in the last 28 days, and are qualified to donate based on their responses to the donor qualification form should know that their blood does not pose a known risk of transmitting SARS-CoV-2 to a transfusion recipient.
In addition, the Red Cross is taking every possible precaution to promote social distancing and blood drives.
COVID-19 Research in Pathology
Mar 27, 2020
The Department of Pathology has a long and rich history of fighting pandemics. In fact, the first Director of Pathology, William Henry Welch, helped lead America's effort to fight the great influenza pandemic of 1918. Today, the Department of Pathology's efforts to help manage the COVID-19 crisis, extends from front line clinical diagnostics to the development of novel therapeutic approaches.
The clinical molecular virology lab in Pathology, led by Karen Carroll, M.D. and Heba Mostafa, M.B.B.Ch., Ph.D., was one of the first to implement a high throughput, in-house coronavirus screening test in the United States, soon to allow the health system to test as many as 1,000 people per day. The lab used the test, which analyzes a nasal or oral swab, for the first time on March 11, 2020. Over 1,000 patients have been tested using this protocol. Soon we will be testing over 1,000 patients a day.
Efforts continue to improve diagnostic testing and to develop new treatments, so that the Department of Pathology can provide cutting-edge patient care for this and other novel viral pathogens. For example, Benjamin Larman, Ph.D. is deploying sophisticated molecular tests to discover host biomarkers that will identify patients at high risk for poor outcomes. Mario Caturegli, M.D.,Ph.D. is developing a new serology test that can be used to determine who has recovered from the infection, as well as new tests for "cytokines," small moleculaes produced by the immune system that may cause harm in patients with the infection. Pathologist, Daniela Cihakova, M.D., Ph.D., instituted a collaborative research project with Nisha Gilotra, M.D., in the Division of Cardiology, to biopsy patients with COVID-19 myocarditis (heart inflammation) to analyze the viral load and immune cells infiltrating the heart, in an effort to understand the pathogenesis of this facet of the disease which may p rogress rapidly. In parallel, Jonathan Schneck, M.D., Ph.D., is leading an effort to identify immune responses to COVID-19 infections that can be helpful diagnostically and may be translated into cellular therapies. The Department of Pathology is also developing new approaches, led by Evan Bloch, M.B.Ch.B., M.S. and Aaron Tobian, M.D., Ph.D., to treat infected patients using plasma antibodies from patients who have recovered from the infection for treatment of individuals exposed to the virus. Finally, Drs. TC Wu and Chien-Fu Hung are working to develop a novel vaccine to prevent the infection.
Passing of Dr. Belur Bhagavan
Mar 9, 2020
SERVICE UPDATE (March 9, 2020)
Belur Bhagavan's family has decided, with an abundance of caution, to postpone the memorial service originally scheduled on Saturday March 14th. They have a number of elderly family and friends traveling great distances and feel it would be safest to reschedule for the fall.

As soon as the memorial is rescheduled, we'll send out the new date.

Ralph Hruban, MD
Baxley Professor and Director
SERVICE UPDATE (March 5, 2020)
There will be a celebration of the life of Dr. Belur S. Bhagavan taking place on:

Saturday, March 14, 2020
1:30 PM to 4:00 PM
The Renaissance Hotel, Baltimore Inner Harbor
202 Pratt St.
Baltimore, MD 21202

RSVP is requested: belur.bhagavan.memorial@gmail.com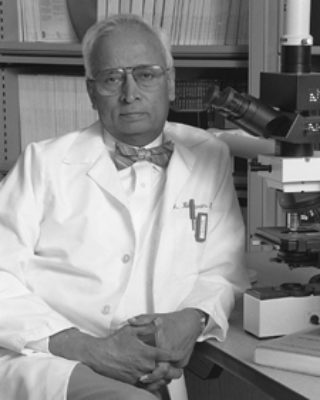 It is with great sadness that we learned of the passing of our dear friend, colleague and mentor, Belur Bhagavan (Belur Shamanna Babu Bhagavan Das).

Belur was born in 1934 in India to a family of progressive Bramin theosophists. He graduated from R.G. Kar Medical College, Calcutta, India in 1958 and the following year he married Leela, the love of his life. Belur and Leela had two children, Minni and Manu.

Belur completed his residency in pathology in 1966 at Sinai Hospital here in Baltimore under the guidance of Drs. Tobias Weinberg and Howard D. Dorfman. Belur rose through the ranks at Sinai, and was their Pathologist in Chief and Director of the Laboratories from 1985 to 1999. After one year in New York at Montefiore Medical Center and Albert Einstein College of Medicine, Belur returned to Baltimore as an Associate Professor of Pathology here at Hopkins.

Over the many years he was associated with Hopkins, Belur taught our medical students, residents and fellows, contributed to the diagnostic gastrointestinal pathology service, and was a friend and mentor to many of us. His command over anatomic pathology was most impressive. He would solve diagnostic challenges starting from embryology, moving to histology and finally histopathology. Most impressive was the breadth of his knowledge- as a pathologist he focused on a field (such as pediatric pathology, renal pathology and GI pathology) and mastered it, and then moved on to a new field. Belur was always eager to learn and willing to teach. He had a wonderful, mischievous sense of humor, and a playful smile. His selflessness and wise philosophy were unmatched. He will be dearly missed.

A service is being planned.
Innate lymphoid cells drive pericarditis
Mar 4, 2020
Congratulations Dr. Čiháková on her recent paper in Cell Reports. In this paper Dr. Čiháková shows that innate immune cells play an important role in pericarditis. Innate lymphoid cells (ILCs) are recently identified innate immune cells that serve important roles in lymphoid tissue formation, repair of damaged tissues, and homeostasis, as well as in immunity against infectious microorganisms. We find that cardiac group 2 innate lymphoid cells (ILC2s) are essential for the development of IL-33-induced eosinophilic pericarditis. We show a pathogenic role for ILC2s in cardiac inflammation, in which ILC2s activated by IL-33 drive the development of eosinophilic pericarditis in collaboration with cardiac fibroblasts. We also find that eosinophils reside in the mediastinum and can migrate to the heart. Thus, the serous cavities may serve as a reservoir of cardiac-infiltrating eosinophils. In humans, patients with pericarditis show higher amounts of ILCs in pericardial fluid than do healthy controls and patients with other cardiac diseases. We demonstrate that ILCs play a critical role in pericarditis.
Click here to read the article.
Click here to visit the Čiháková Lab.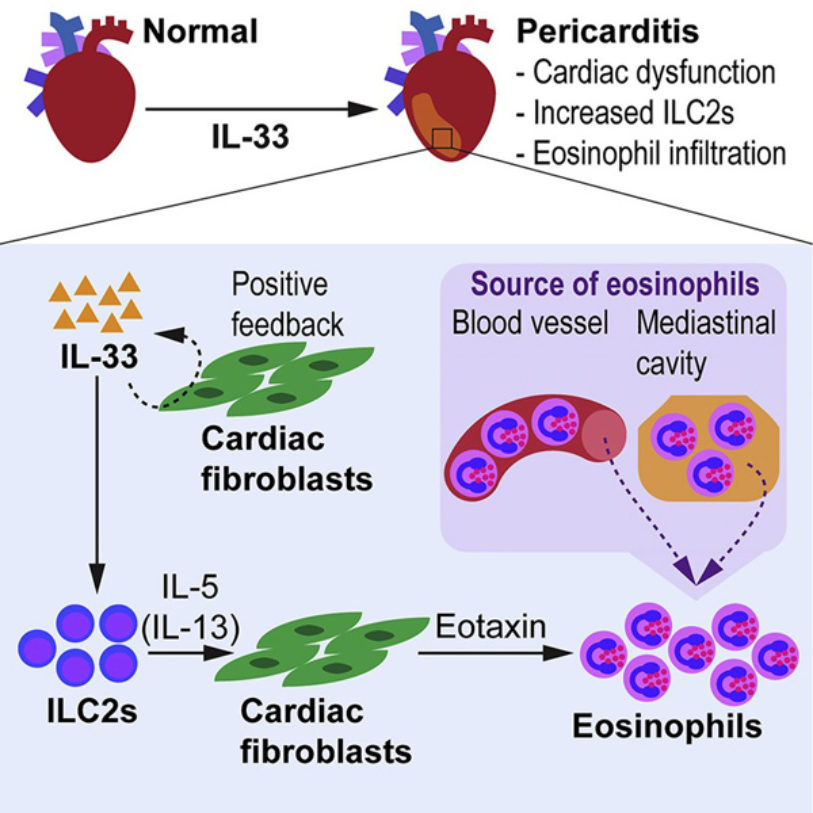 Congratulations, Dr. Anne Le!
Feb 24, 2020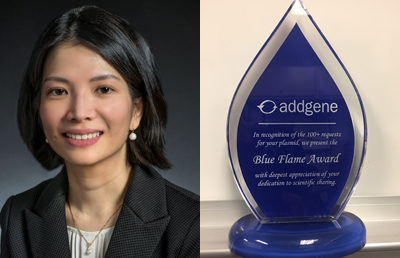 Congratulations Dr. Anne Le on earning a Blue Flame Award from Addgene! The Blue Flame Award is given to scientists who have plasmid(s) deposited at Addgene that has been distributed at least 100 times. Her dedication to scientific sharing has helped accelerate the speed of scientific research worldwide.
Hopkins Pathology #1 in NIH Funding for 2019
Feb 12, 2020
The Blue Ridge Institute released its 2019 rankings of NIH funding to US medical schools, and the Department of Pathology here at Hopkins once again is recognized as the #1 funded pathology department! This makes the department #1 in NIH funding for 12 of the last 13 years. In addition, Sharon Nachman, Susan Eshleman, Mary Glenn Fowler, and Phil Wong were among the top 15 funded pathologists in the US. From fighting HIV in Africa, to cancer in the inner city, our faculty are dedicated to impactful science.
A special thanks to Teresa Healy, Neiksha Stephens, and Ewa Lilly in grants administration for their tireless efforts!
To see the Blue Ridge Institute's full report, click here
| Rank | Name | Pathology |
| --- | --- | --- |
| 1 | Johns Hopkins University | $60,478,764 |
| 2 | University of Pennsylvania | $49,185,913 |
| 3 | Columbia University Health Sciences | $35,408,929 |
| 4 | Stanford University | $30,439,556 |
| 5 | University of Michigan at Ann Arbor | $29,657,632 |
Congratulations, Denis Wirtz!
Jan 28, 2020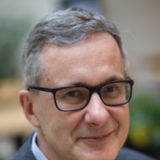 Denis Wirtz, vice provost for research and a professor in the Department of Chemical and Biomolecular Engineering with a secondary appointment in Pathology, has been elected a foreign member of the Royal Academy of Medicine of Belgium for his body of scientific work. He is the first engineer and non-MD to be elected.
A member of the 2019 class of inductees, Wirtz will be formally introduced during a ceremony Saturday in Brussels. He also has been invited by the King and Queen of the Belgians to present a public lecture there next year.
"
My election as a member of the Royal Academy of Medicine of Belgium is a truly special recognition as it comes from my country of origin... It also recognizes the prodigiously creative work of my students and fellows over the past 25 years at Johns Hopkins.
Denis Wirtz,
Ph.D.
The Royal Academy of Medicine of Belgium, which is made up of 100 full and associate members, was founded in 1841 and advises the Belgian government on matters pertaining to public health.
Wirtz studies the molecular and biophysical mechanisms of cell motility and adhesion, as well as the nuclear dynamics in health and disease. He collaborates extensively with faculty in the Department of Pathology, including studies of the 3D architecture of cancer.
Dr. Ashley Cimino-Mathews Appointed to USCAP Board
Jan 17, 2020
Congratulations, Norm Barker!
Jan 8, 2020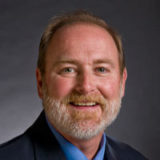 Congratulations to Norm Barker, Professor of Pathology & Art as Applied to Medicine, for his work's recognition in the Nikon Small World photomicrography competition! Norm and Christine Iacobuzio-Donahue collaborated to capture this stunning image of zebrafish embryos.
Nikon Small World Calendar celebrates its 45th year in 2020. This year's contest drew imagemakers from 98 different countries, as well as from a diverse range of academic and professional disciplines. The winners came from many different fields such as chemistry, biology, materials research, botany, and pathology.
The photomicrograph shows several genetically engineered zebrafish embryos expressing green and red fluorescent proteins. This low-power image is captured with a combination Fluorescence and Differential Interference Contrast technique. The photomicrograph was first published in the book Hidden Beauty: Exploring the Aesthetics of Medical Science, which was a collaboration between an artist and scientist. Norm and Chris worked together on this beautiful coffee table book. The traveling exhibit from the book is still on tour and currently on view at the State University of New York in the Adirondacks.
The image shows how animal models are an important tool in a medical researcher's arsenal to study disease. One such animal model relies on the species Danio rerio, a popular aquarium fish that is better known as zebrafish. Zebrafish models are particularly useful for studying embryologic development because the embryos are translucent, permitting the visualization of organ development. In this example, researchers have applied cloning methods to incorporate genes that express fluorescent proteins into the zebrafish genome. Red fluorescent proteins are produced in all cells of the zebrafish embryo, whereas green fluorescent proteins are produced only in the cells that develop into the eye, brain and pancreas. x20