Ways to Give
Gifts of all sizes help the Department of Pathology to lead the world in innovative and compassionate patient care, groundbreaking research, and excellent medical education.

Thank you for your support.
Donate by Phone

To speak to someone directly about making a gift, please call 443-287-4749.
Donate by Mail

Mail your tax-deductible contribution made payable to Johns Hopkins University to:
Robert Kahl
Department of Pathology
Johns Hopkins Medicine
600 N. Wolfe Street, Carnegie 417
Baltimore, MD 21287-6417
More Ways to Give
Matching gifts, tribute giving and gift planning are additional ways to provide support to our department. For more detail, contact our Development Office at 443-287-4749 or HopkinsPathology@jhmi.edu.


Matching Gifts

Many employers offer a matching gift program to their employees. For every dollar you donate to the Department of Pathology, your employer will match it either dollar for dollar, two dollars to one dollar, or, in more generous cases, three dollars to one dollar. To find out if your company has a matching gift policy, please visit https://ww2.matchinggifts.com/jhu. Complete the section of your Employer's required matching gift request form or online request portal designated for employees. For printed forms, please mail it to us at the address below and we will take care of all the other details and paperwork.

Please send matching gift form to:
JHU/Development Business Services
Attn: Gift Processing Supervisor
3910 Keswick Road N2100
Baltimore, Maryland 21211
Questions about matching gifts? Please email matchinggifts@jhu.edu.


Tribute giving

There are many opportunities to commemorate family members, friends, or colleagues on a birthday, anniversary, or another special occasion. For example, gifts can be made to the Department of Pathology in honor of a friend's special life event, or in honor of a physician who has played a significant role in your health or who has advanced research in a specific disease area. These gifts are greatly appreciated by the people being honored and their families.

A gift made to the Department of Pathology in memory of a person who has passed away is a special way to honor a beloved friend or family member. Such gifts not only memorialize the person, but also help fight the disease that caused them suffering.


Gift planning

Gift planning allows our donors to thoughtfully choose ways of giving that meet their needs—and the needs of the Department of Pathology. A development director from the Department and the Johns Hopkins University Office of Gift Planning can provide you with information on effective charitable planning options so that you can achieve optimum tax, financial, and philanthropic results.
Honoring Our Past, Funding Our Future
For more than 125 years, the Department of Pathology has continued the traditions of excellence in research and teaching begun by William H. Welch, M.D., the first Professor of Pathology at Johns Hopkins. Even before the hospital opened its doors in 1889 and the School of Medicine welcomed its first class of medical students in 1893, the Johns Hopkins Department of Pathology has been at the forefront of medical research and education.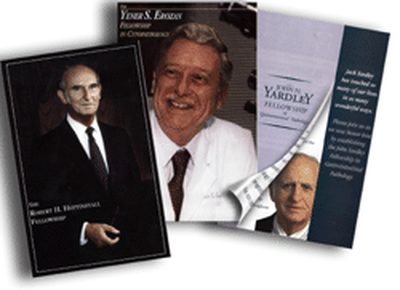 The story of Johns Hopkins is at its heart a story of philanthropy. Johns Hopkins Medicine owes its existence—and its continuing excellence—to the generosity of private individuals. While most investigators in the Department of Pathology receive some level of government funding, contributions from private individuals, foundations, and corporations provide investigators with the additional funding that is crucial in helping to continue the quality of teaching and patient care for which Johns Hopkins Medicine is known. More importantly, philanthropic contributions provide the critical support that investigators need in order to pursue novel and potentially high-impact research that challenge the frontiers of medicine for the benefit of all—now and in the future, here at Johns Hopkins and around the world.

Our Funds & Endowments
Some of the world's most accomplished physician-scientists have been members of our faculty. These remarkable men and women had significant impact on their respective fields and were extraordinary teachers and mentors to generations of pathologists.

Your tax-deductible contribution to any of our endowed funds both honors our past and provides permanent support to fund our future. Thank you for your investment and partnership.