The Johns Hopkins Hospital
The Johns Hopkins Hospital is a 990-bed general hospital that is a part of The Johns Hopkins Medical Institutions (JHMI). The Hospital provides care to the population of metropolitan Baltimore as well as to patients referred from regional and distant locations. Training in anatomic and clinical pathology is integrated in the Department of Pathology, which each year performs approximately 325 autopsies, 82,679 surgical and 41,188 cytopathology evaluations, and over 7.6 million laboratory tests. Laboratories are well equipped for electron microscopy, fluorescence microscopy, flow cytometry, immunohistochemistry, biochemical and molecular biology, and modern automated diagnostic services. The department has 18 divisions including autopsy pathology, cardiovascular, clinical chemistry, cytopathology, gastrointestinal-liver pathology, genitourinary, gynecologic pathology, hematologic pathology, immunology, informatics, microbiology, molecular pathology, neuropathology, ophthalmic pathology, pediatric pathology, pulmonary pathology, surgical pathology, and transfusion medicine.
Our Department
The Department of Pathology has more than 100,000 square feet of space for its service and research activities. Anatomic pathology services and support labs are located in the Pathology Building, and are contiguous with the clinical pathology laboratories located in the Meyer and Carnegie Buildings. A surgical pathology suite was opened in the Fall of 2000 as part of the Weinberg Comprehensive Cancer Center. In 2013, the new Core Lab and Blood Bank opened in the Sheikh Zayed Tower Building. The Pathology Residents and Fellows Resource Center is centrally located adjacent to the Pathology Administration Offices on the fourth floor of the Pathology/Carnegie Building. The resource center includes a 3,000-square-foot office area with cubicles for all house staff; an adjacent house staff workroom with computers and microscopes, the Training Program Office for the coordinator, secretary, chief residents and house staff secretary; a lounge, mail room and conference room with modern video technology. The Pathology Library and reading room also is on the fourth floor of the Pathology Building. More than 25 faculty members of the department have their basic research laboratories in 67,050 square feet in the Richard Ross Research Building, the Koch Cancer Research Building, the Bunting Blaustein Cancer Research Building and the new Sheikh Zayed Tower.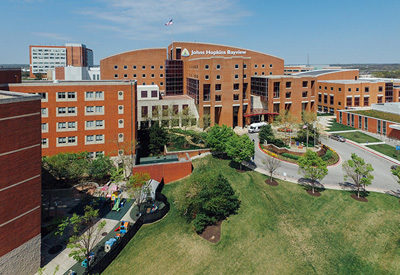 Bayview Medical Center
The Johns Hopkins Bayview Medical Center, a JHMI institution located two miles from The Johns Hopkins Hospital, provides opportunities for selected AP and CP rotations. Pathology services at Bayview are provided by full-time Hopkins faculty members. Rotations at JHBMC provide the experience of working in a community hospital.
More than 92 full-time primary faculty and numerous secondary and part-time faculty provide internationally recognized expertise in diagnostic pathology as well as clinical, translational and basic research. They provide the basis for training residents interested in careers in academic pathology, research, and/or community practice.