Benefits
We believe that we have the best pathology residents in the world, and we are deeply committed to supporting them. This support takes many shapes, and here we highlight some of the many ways we support resident wellness here in the Department of Pathology.
Development

Annual book fund: $1,000
Reimbursement for Anatomic and/or Clinical Pathology board examination fees
Reimbursement for travel to one conference annually if presenting as first or last author
Routinely updated alumni list for networking
Technology & Aids

Dell laptop for use throughout residency
GraphPad Prism 2D graphing and statistics software
EndNote reference manager
ASCP PRISE Online Question Bank
ExpertPath
ImmunoQuery
Health & Wellness

Individual/family health, vision, dental, life and disability insurance. Learn More
Parking subsidy, 403(b) contribution
Get a $120 monthly credit for Jimmy's Famous Meals.
Free gym membership at the Cooley Center located on the JHMI campus.
Wellness Initiative
In addition, we have a Wellness Committee established for residents, by residents. Our mission is to promote physical, emotional, social, and intellectual wellness of pathology residents.
Our accomplishments include:
Getting a fourth week of vacation for interns
Providing healthy snack options
Sponsoring first annual Resident Retreat
Arranging a monthly resident coffee and snack social
Family
For residents with children, JHU offers childcare vouchers up to $5,000, as well as scholarships to JHU's childcare centers.

Stipend
Below are the compensation levels for house staff for 2020-2021:
| Postdoctoral Year | Annual | Semi-monthly |
| --- | --- | --- |
| 1st | $57,160 | $2,381.67 |
| 2nd | $59,570 | $2,482.08 |
| 3rd | $62,439 | $2,601.63 |
| 4th | $65,051 | $2,710.46 |
| 5th | $67,913 | $2,829.71 |
| 6th | $71,236 | $2,968.17 |
| 7th | $73,743 | $3,072.63 |
| 8th | $75,976 | $3,165.67 |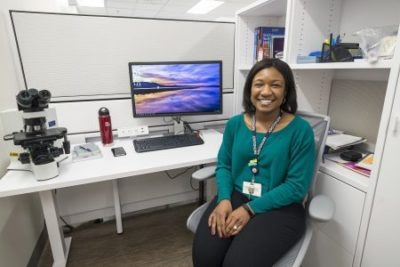 Renovated Residents' Room
Our renovated residents' room features an individual cubicle and microscope for each resident with a large computer monitor and laptop docking station.
Resident Endowments
Our department has five perpetual endowments that are committed to supporting resident teaching and research endeavors.

Teaching Endowments


The Risa B. Mann, M.D. Fund

This fund honors Risa B. Mann, M.D., a member of the Surgical Pathology service for 27 years, Director of our Residency Training Program for 17 years, and a nationally recognized hematopathologist. Throughout Dr. Mann's career, she was a staunch supporter and advocate for women in the field of Pathology serving as a role model for young women in pathology by showing them how to achieve success both personally and professionally. The Risa B. Mann, M.D. Fund provides support for resident research and education in the Department of Pathology.
Research Endowments


The Joseph C. Eggleston Fund in Surgical Pathology

This fund honors Joseph C. Eggleston, M.D. former Director of Surgical Pathology and Professor of Pathology. Dr. Eggleston was one of the true giants in the field of surgical pathology. He was not only a leading authority on the pathology of lung cancer, but also educated a generation of outstanding surgical pathologists. This fund is used to support residents in surgical pathology research projects or other activities that support their training and careers.


The Gary S. Hill, M.D. Fund

This fund honors Gary S. Hill, M.D., an internationally renowned renal pathologist and the former Chief of Pathology at Johns Hopkins Bayview Medical Center. This fund is used to support medical students, residents, fellows and junior faculty for their research in renal pathology and provide funds to disseminate their findings (including travel to professional meetings and publishing papers).


The Fred and Janet Sanfilippo Research Fund

The Fred and Janet Sanfilippo Research Fund honors the many contributions of our former Director, Fred Sanfilippo, M.D., Ph.D., to the department of Pathology, as well as his many contributions to the field of organ transplantation pathology. The fund provides significant support for innovative research by our residents and fellows.


The Mabel Smith Fund for Residents

The Mabel Smith Fund for Resident Research and Education was launched in November 2004. This fund honors Mabel Smith, a beloved administrator in the Pathology Department and employee from 1961 to 2013. At Mabel's request, income from the fund is used to finance special courses, research projects, travel and other needs for residents in the Department.