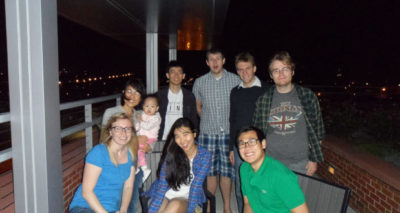 Alumni
A PhD in Pathobiology emphasizes translational research and places our graduating students in an exceptional position to pursue careers in academic research, government, and the biotech industry. Our alumni are spread across the world pursuing their dream careers. The scientific knowledge and critical thinking skills shown by our graduates have set them up to succeed in any career path they choose.
Meet Our Alumni
Where Our Graduates Are Today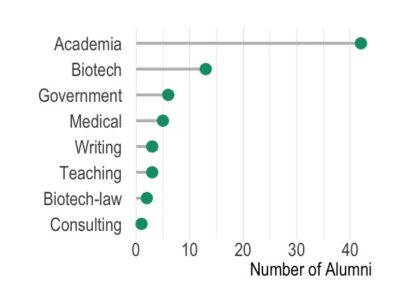 Our alumni have gone on to pursue a wide range of career paths, from academia to financial analysis. Most graduates do a post-doctoral fellowship after graduating and enter academic research as an assistant professor. However, a PhD in Pathobiology can be used to enter nearly any career and our program is committed to support and assist our students pursue their unique career paths.
Name
Graduation Year
Current Position
Institution/Company
Yeh Wang, M.D., Ph.D.
Aug 2022
Post-doctoral Research Fello
Dr. Ie-Ming Shih Lab, JHUSOM
Pola Olczak, Ph.D.
Aug 2022
Field Application Scientist
Covaris, LLC
Ye Eun Jeong, Pharm., Ph.D.
May 2022
Postdoctoral Research Fellow
FDA
Tat Wei Lionel Chia, Ph.D.
Dec 2021
Postdoctoral Fellow
Foghorn Therapeutics
Daniel R. Monaco, Ph.D.
Dec 2021
Scientist
ImmuneID
Yea Ji Jeong, D.V.M., Ph.D.
Aug 2021
Anatomic Pathology Resident
Ohio State University
Wei-Kai Huang, M.S., Ph.D.
May 2021
Postdoctoral Scholar
University of New York
Swathi Karthikeyan, M.S., Ph.D.
May 2021
Postdoctoral Research Fellow, Dr. Christina Curtis and Dr. Mike Bassik Lab
Stanford University School of Medicine
Monika M. Looney, Ph.D.
May 2021
Postdoctoral Research Fellow, Dr. Petros Karakousis Lab
Johns Hopkins University School of Medicine
Katie L. Marshall, Ph.D.
May 2021
Postdoctoral Research Fellow, Dr. Nicholas Maragakis Lab
Johns Hopkins University School of Medicine
Kristen L. Nicholes, M.S.
May 2021
Research Scientist
Fate Therapeutics
Yu-Ting Chang, Ph.D.
Dec 2020
Bo-Ran Choi, DVM, Ph.D.
Dec 2020
Postdoctoral Research Fellow
Dr. Dorian McGavern Lab
NIH/NINDS
Nivedita Chowdhury, Ph.D.
Dec 2020
Scientist
Atreca
John A. Fissel, Ph.D.
Dec 2020
Clinical Microbiology Fellow
Children's Hospital, Los Angeles, CA
Byung Woo Kim, Ph.D.
Dec 2020
Postdoctoral Research Fellow, Dr. Zhaohui Ye Lab
FDA
Zoila Areli Lopez Bujanda, Ph.D.
Dec 2020
Postdoctoral Research Fellow, Dr. Dan Littman Lab
Skirball Institute, NYU
Emily C. Maggioncalda, Ph.D.
Dec 2020
Postdoctoral Research Fellow, Dr. Evan Snitkin Lab
University of Michigan
Eva Shrestha, Ph.D.
Dec 2020
Worldwide Medical Fellow
Biogen
Minling Gao, Ph.D.
May 2020
Audrey Knight, Ph.D.
May 2020
Postdoctoral Research Fellow
Dr. Victoria Baxter Lab
University of Chapel Hill
School of Medicine
Janelle Montagne, M.S., Ph.D.
May 2020
Postdoctoral Research Fellow
Drs. Elizabeth Jaffee and Elana Fertig Lab
Johns Hopkins University
School of Medicine
Samantha Semenkow, Ph.D.
May 2020
Sr. Biotech Research Associate
Citi Group
Hee Sun Choi, Ph.D.
Dec 2019
Postdoctoral Research Fellow
Dr. Kuchroo Lab
Brigham Women's Hospital and Harvard Medical School
Drew T. Bell, Ph.D.
May 2019
Postdoctoral Research Fellow, Pathology and Laboratory Medicine
Indiana University School of Medicine
Bo-Yi Sung, M.D., Ph.D.
May 2019
Instructor
National Defense
Medical Center,
Taipei
Wan Rou Yang, Ph.D.
Dec 2018
Johns Hopkins General Psychiatry Residency Program
Johns Hopkins University
School of Medicine
Corey Porter, Ph.D.
Oct 2018
Postdoctoral Research Fellow,
Dr. Matthias Truttman Lab
University of Michigan
Jaeyeun Lee, Ph.D.
May 2018
Postdoctoral Research Fellow,
Dr. Richard Ambinder Lab
Johns Hopkins University
School of Medicine
Bradley A. Poore, Ph.D.
May 2018
Clinical Chemistry Fellow
Dartmouth-Hitchcock
Heidi Hempel Sullivan, Ph.D.
May 2018
Postdoctoral Research Fellow
National Human Genome Research Institute and Education and Community Involvement Branch
Carolyn Tallon, Ph.D.
May 2018
Postdoctoral Research Fellow,
Dr. Barbara Slusher Lab
Johns Hopkins University
Drug Discovery
Michael E. Urbanowski, M.S., Ph.D.
May 2018
3rd Year Med Student
University of Massachusetts
Medical School
Youngran Park, Ph.D.
Dec 2017
Postdoctoral Research Fellow,
Drs. Ie-Ming Shih and
Tian Li Wang Lab
Johns Hopkins University
School of Medicine
Breann Yanagisawa, Ph.D.
Dec 2017
Academic Copyeditor
Research Square Durham,
NC
Allison Hanaford, Ph.D.
May 2017
Postdoctoral Research Fellow,
Dr. Hiroyuki Nakai Lab
Oregon Health and
Science University
Rosie Jiang, Ph.D.
May 2017
Senior Life Sciences Specialist
L.E.K. Consulting
Jonathan Ling, Ph.D.
May 2017
Assistant Professor, Molecular Pathology
Johns Hopkins University
School of Medicine
Meng Su, Ph.D.
May 2017
Assistant Professor of Pathology; Associate Director of Colorado Genetics Laboratory
University of Colorado
Byung-Hak Kang, Ph.D.
Dec 2016
Investigative Pathologist - Investigator III
Novartis Institutes for BioMedical Research
Annie Hsieh, Ph.D.
May 2016
3rd Year Resident, Neurology
Albert Einstein Medical Center
Sungyul Lee, Ph.D.
May 2016
Postdoctoral Research Fellow,
Dr. Narry Kim Lab
Institute for Basic Science Center
for RNA Research,
Seoul National University
Wan Yee Leong, Ph.D.
May 2016
Postdoctoral Research Fellow,
Department of Medicine
Massachusetts General Hospital
Wei Wen Teo, Ph.D.
May 2016
Postdoctoral Research Fellow
Cancer Science Institute
of Singapore
Alyssa Walker, Ph.D.
May 2016
Tutor in Biology
Howard Community College
Sarah Croessmann, Ph.D.
May 2015
Research Assistant Professor
Vanderbilt University
Medical Center
Anne Macgregor-Das, Ph.D.
May 2015
Toxicologist
FDA
Alvin Makohon-Moore, Ph.D.
May 2015
Postdoctoral Research Fellow, Christine Iacobuzio-Donahue Lab
Memorial-Sloan-Kettering Cancer Center
Weijie Poh, Ph.D.
Dec 2015
Head, Global Clinical and Medical Operations
Healint
Melek Sunay, Ph.D.
May 2015
Staff Fellow
FDA
Joshua Wang, Ph.D.
May 2015
Founder, President and Chief Science Officer
VerImmune
Hong Yuen Wong, Ph.D.
May 2015
Research Assistant Professor
Vanderbilt University Medical Center
Shu-Han Yu, Ph.D.
May 2015
Assistant Professor, S.H.Y. Lab, Institute of Biotechnology
National Taiwan University
Jacqueline Brosnan-Cashman, Ph.D.
May 2014
Scientific Editor,
Clinical Cancer Research
American Association for
Cancer Research (AACR)
Saniya Fayzullina, Ph.D., PMP
Dec 2014
Sr. Staff Project Manager
GRAIL, Inc.
Teraneh "Tizzy" (Zarififar) Jhaveri, Ph.D.
May 2014
Associate Director, Medical Affairs (Oncology)
Gilead Sciences
Kihyuck Kwak, Ph.D.
May 2014
Postdoctoral Research Fellow
National Institute of Allergy and Infectious Diseases (NIAID)
Kah Suan Lim, Ph.D.
May 2014
Postdoctoral Research Fellow,
Alan D'Andrea & Timur Yusufzai Lab
Dana-Farber Cancer Institute,
Boston, MA
Yiting Lim, Ph.D.
May 2014
Postdoctoral Research Fellow
Fred Hutchinson Cancer Research Center, Seattle, WA
Allison Sharrow, Ph.D.
May 2014
Assistant Project Scientist
UCLA
Brian Simons, Ph.D.
May 2014
Director, Comparative Pathology Program
Center for Comparative Medicine, Baylor College of Medicine
Ren-Chin Wu, M.D., Ph.D.
Dec 2014
Vice Chair, Anatomic Pathology
Chang Gung Memorial Hospital
Arvin Gouw, M.A., Ph.D.
May 2013
Founding CEO
Bacchus Therapeutics
Kah Jing Lim, Ph.D.
May 2013
Research Scientist
Acenzia, Inc.
Sophie Zhirong Lin, Ph.D.
May 2013
4th Year Medical Student,
Department of Medicine
Johns Hopkins University
School of Medicine
Laxmi "Lucky" Pellakur-Slider, Ph.D.
May 2013
Scientific Director
PRECISIONscientia
Shaaretha Pelly, Ph.D.
May 2013
Sr. Assistant Director of Research,
Institute for Health Technologies
Nanyang Technological University
Kristen Rennoll-Bankert, Ph.D.
May 2013
Staff Regulatory Affairs Specialist
Becton, Dickinson and Company
Taylor Reynolds, Ph.D.
May 2013
Discovery Pathologist,
Immunology at Biogen
Biogen,
Cambridge, MA
Jessica M. Fogel, Ph.D.
Dec 2012
Research Program Manager,
Transfusion Medicine
Johns Hopkins University
School of Medicine
Kathleen K. Kelly (Brennan), DVM, Ph.D.
May 2012
Associate Clinical Professor and Mammalian Pathologist
Animal Diagnostic Laboratory, Penn State
Valerie Toodle, Ph.D.
May 2012
Biological Patents Examiner
USPTO
(US Patent and Trademark Office)
Genevieve L. Weber, Ph.D.
May 2012
Instructor/Adjunct Faculty
Oregon State University
Kai Lee Yap, Ph.D.
May 2012
Director, Molecular Diagnostics; Professor of Pathology
Ann & Robert H. Lurie Children's Hospital of Chicago
Po-Min Chiang, Ph.D.
May 2011
Assistant Professor,
Institute of Clinical Medicine
National Cheng Kung University, Taiwan
Joseph Paul Garay, Ph.D.
May 2011
Sr. Research Associate
Oregon Health and Science University
Barry Gertz, M.D., Ph.D.
May 2011
CSO and EVP
Synterica, Inc.
Tory P. Johnson, Ph.D.
Dec 2011
Assistant Professor, Neuroimmunology
Johns Hopkins University
School of Medicine
Cheryl Mei-Yi Koh, Ph.D.
Dec 2011
Principal Scientist
DeepCure
Melissa A. Landek-Salgado, Ph.D.
May 2010
Contractor, Molecular Psychiatry Program
Johns Hopkins University
School of Medicine
Kimberly M. Walter, D.V.M., Ph.D.
May 2010
Associate Director, Biomarker Scientist
Atreca, Inc.
Sarah K. Wyman (Brennan), Ph.D.
Dec 2010
Farm Intern in Residence
Camphill Village Trust
Jennifer R. (Wehner) Zitner, Ph.D.
May 2010
Advanced Lecturer,
Human Anatomy and Physiology
Loyola University Chicago
Barry A. Chestnut, Ph.D.
May 2009
Primary Patent Examiner,
Biotechnology and Organic Chemistry
US Patent and Trademark Office (USPTO)
Youngtae Jeong, M.D., Ph.D.
Dec 2009
Assistant Professor, New Biology
Daegu Gyeongbuk Institute of Science and Technology
Colleen Mulvey Lemmon, Ph.D.
May 2009
Sr. Medical Science Liaison
Seagen
Yen-Chun Liu, M.D., Ph.D., M.S.
May 2009
Assistant Professor of Pathology,
Division of Hematopathology
University of Pittsburgh
Medical Center
Joon Tae Park, Ph.D.
May 2009
Assistant Professor,
Department of Electronics Engineering
Incheon National University,
South Korea
Kristi L. Helke, DVM, Ph.D., DACVP
May 2008
Professor, Comparative Medicine;
Director, MUSC-VA Veterinary Diagnostic Lab
Medical University of
South Carolina
Bruce K. Huang, Ph.D.
May 2008
Cancer Researcher
National Cancer Institute,
Rockville, MD
Alexandra "Sasha" M. Klevytska, Ph.D.
May 2008
Biology and Neuroscience Teacher
The Bryn Mawr School,
Baltimore, MD
Kazunori Murata, Ph.D., DABCC
May 2008
Clinical Chemist,
Department of Laboratory Medicine
Memorial-Sloan-Kettering
Cancer Center
Stina M. Tucker, Ph.D.
May 2008
Director, Translational Core Facility
Stockholm University
Victoria A. Laast, D.V.M, Ph.D.
May 2007
Associate Director, Pathology
Labcorp Drug Development
Paria Mirmonsef, Ph.D.
May 2007
Assistant Professor
Rush University Medical Center
Koh Meng Aw Yong, Ph.D.
Dec 2006
Global Product Manager
GenScript
Craig A. Fletcher, DVM, Ph.D., Dipl. ACLAM
May 2006
Associate Vice Chancellor of Research;
Director, Division of Comparative Medicine;
Professor, Dept. of Pathology
and Laboratory Medicine
University of North Carolina
at Chapel Hill
Jung-Whan Kim, D.V.M, Ph.D.
May 2006
Adjunct Professor, Biological Sciences
University of Texas
at Dallas
Craig N. Morrell, D.V.M, Ph.D.
May 2005
Professor, Department of Medicine
Aab Cardiovascular
Research Institute, University of Rochester Medical Center
Onikepe A. Adegbola, M.D., Ph.D.
May 2003
Chief Operating Officer
Contentago
Jonathan R. Brody, Ph.D.
May 2003
Vice Chair of Research for the Dept. of Surgery and is the Associate Director of Translational Research of the Brenden-Colson Pancreatic Center for Patient Care
Oregon Health and Science University
Laura K. Richman, D.V.M., Ph.D., DACVP
May 2003
Chief Development Officer
Affinia Therapeutics